Destination Bandelier ~ Artistic Preparations ~ Part 4
"FINDING THE GROOVE…"
Welcome to Part Four of my ARTISTIC preparations story for the month long Artist Residency at Bandelier National Monument only a day away!  If you've missed any of the prior Destination Bandelier posts, here are the links so you can enjoy the full story!
This time I'm sharing more of the artistic preparation process with all of the wonderful outings so far with the Loudoun Sketch Club as I continue to practice painting Plein Air and painting Directly!  I've been learning so much more about…
How to approach painting live and how each of my chosen mediums works in the "field"!
How "environmentals" effect my ability to paint
How knowledge is power…  so even when I've felt less than successful painting completion-wise, it has been a huge success learning what works and doesn't work under different conditions.
Open Acrylics
I've painted with both heavy bodied and fluid acrylics for many years.  This summer I was blessed with a gift of Golden Open Acrylics which have an ingredient which slows the drying time to allow more time for blending and such.  Well that was intriguing to me as I love to experiment so why not try them out as I figure out how I'm going to take acrylics into the "field"!
I tested my Plein Air paint container approach using vitamin holders to hold the paints separately, only opening those I was using and preserving the others from drying out.  Here is a picture of my open acrylics loaded into the vitamin holders along with my improvised paint container holder for keeping them protected and compact when carried in the back pack… I slip the paint container holder and my small Sta-Wet palette into a plastic bag and slip it into the back pack next to the easel and tray, nice and neat!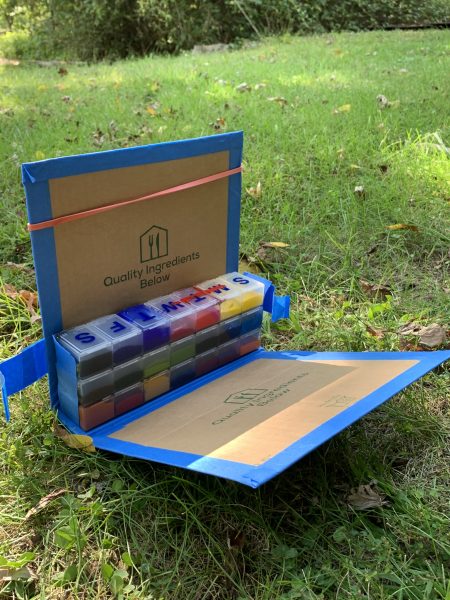 Here is my first painting with the open acrylics on my inaugural outing with the Loudoun Sketch Club… Pretty happy with the results, noticed they dried darker than expected… hmmmm.

Here is my second painting with the open acrylics out Plein Aire.  Here you can see the small Sta-Wet palette I'm using with the set up.
And here are my third and fourth tries with the open acrylics.  Really noticed I was having trouble getting the highlights and brights to show up…  Hmmmmm…  Chatted with a friend who also uses the open acrylics on occasion and she shared a picture of her pigment test sheet with me… turns out all but two of the pigments I was using are either transparent or translucent… the same colors of the open acrylics I was accustomed to using as opaques were not opaque at all so they weren't behaving the same way!  As they dried, they "disappeared" into the prior color with a little tinting but not the intended bright or highlight I had mixed on the palette…  Well that points to the necessity to really understand your materials and not make assumptions doesn't it!  This won't be hard to overcome as the open pigments can be mixed with the "normal" acrylics so I can introduce any desired opaques that way, will just add another layer to my stack of vitamin boxes with strategic opaques to mix in with the open acrylics as needed!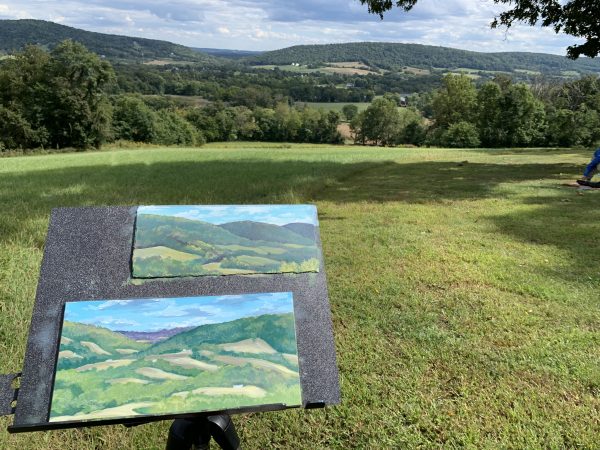 Watercolor
I love watercolor!  The glow, the freshness, the colors… yummy!  The biggest challenge I have found using them in the field is that I default to my studio painting mode with under-paintings, glazes, and washes to then realize I've run out of time on site to get the painting as far along as I intended.  This is especially challenging if it is humid as that slows down the drying time even more!  So more practice in focusing on my Direct Painting focus area using watercolor is in order…  The other option is to take advantage of how wonderful watercolor is to use in studies and sketches.  Will keep you posted on how this evolves during the Residency!  Here are a couple samples of how far I was able to get in the field using my new watercolor plein air palette set up.  Really nice starts, so am happy with that for sure!

Back to Gouache
So gouache is basically opaque watercolor.  When I started using it, I applied it like watercolor with a brush, highly diluted so you wouldn't even realize the pigments were opaque!  In earlier blogs I shared initial attempts at direct painting with the gouache with a palette knife which I found very successful.  Why? because I was mixing the color and applying directly vs. glazing layer after layer of thinned pigment to achieve the end result.  The direct painting is much faster and for plein air just leaves me feeling like I am able to capture the essence of the scene while there with minimal work to finish the pieces back in the studio.
Well why not attempt being this direct with a brush Robyn?  Okay!  VOILA!  Amazing when you stay focused on your specific intention instead of allowing yourself to slip back into old habits!  This little landscape was painted with a single 1/2″ flat brush… YAY!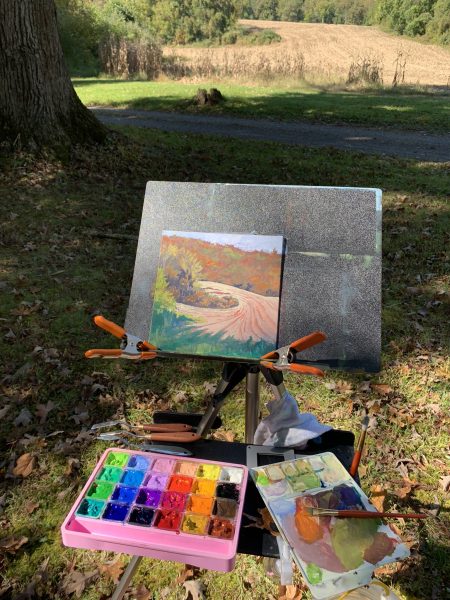 Here are three more examples of working with the gouache and palette knife at the steeplechase and two more Loudoun Sketch Club outings.  I am using a brush to block in the under-painting which ends up sparkling through which I like!  Seem to be progressing in how quickly I am able to block in the under-painting and then get the pieces mostly finished in the single sittings with the palette knife.  YAY!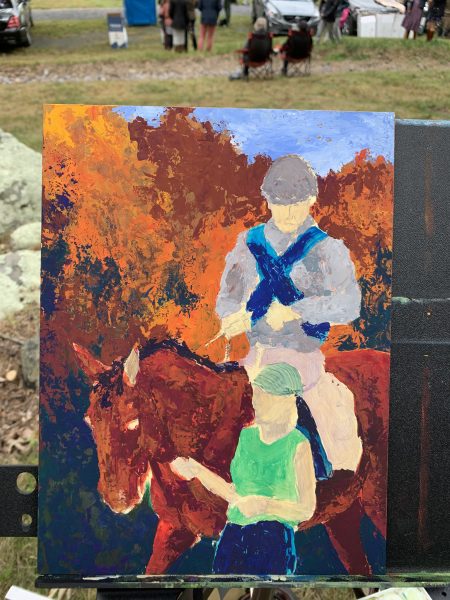 So What Have I Decided…
I've been painting out weekly right up to departing for New Mexico!  These Plein Air painting excursions with the Loudoun Sketch Club and with the Artists In Middleburg at the Virginia Fall Races have taught me a TON!  Here is a summary of my art making lessons learned during this Residency preparation period:
The open acrylics are different in that they dry darker and more muted, I was challenged to get my brights and lights as I'm accustomed regular acrylics… Bottom line:

I will have some regular opaque acrylics along to use with the open pigments in the future…
This was a great trial run of the vitamin box paint storage/transport solution I will definitely use moving forward across mediums…
The open acrylics are staying home due to space and weight shipping considerations… I'm taking my normal acrylics to New Mexico with several new vitamin boxes to set them up in!
I LOVE THE WATERCOLOR PALETTE!  I will be doing all of my watercolors with it in New Mexico.  In the studio I will be right at home… on the trail I will be laying in basic under-paintings to finish at the studio OR doing quicker watercolor and ink studies.  It will be interesting to see how the dry environment impacts my ability to paint faster and further in this medium than here in Virginia.
The gouache is an absolute BLAST!  They worked with both brush and palette knife beautifully.  For the immediate direct painting results I was seeking, this medium appears to be successful, playful, and kept me from being too picky, all great things…  I have shipped a separate set out to New Mexico with its own set of vitamin holders to transfer the pigments into for ease of transport in the backpack!
The overall Plein Air "kit" is working out great, I have only made minor adjustments to what came out of the box like using the poster putty to secure supplies to the tray and padding the handle of the backpack with pipe insulation and bright pink duct tape!!!  I also cannot find a little stool with zippered bag underneath to replace my old one so will continue to use the one I've had for DECADES… bet they don't make them to last like that anymore!
WOW!  What a fun learning process since May!  I'm really grateful to have had  6+ months to prepare, practice, and discern what I want to bring forward into the Residency!
What's Next…
This is the last of the initial preparation Destination Bandelier posts since I'm sitting here at BASECAMP CASITA in Santa Fe, New Mexico getting acclimated to the altitude and enjoying friends old and new!  I sort through all that was shipped here tomorrow and do my initial shopping run for groceries, house keeping supplies, and final art needs tomorrow afternoon… Then to fit it all into that rental car Tuesday morning!  Sitting here in the Casita with all of the boxes (10) and suitcases/bags (4) of various dimensions it is clear it will be a 3D Tetris game!  I'm up for it!  Can't wait!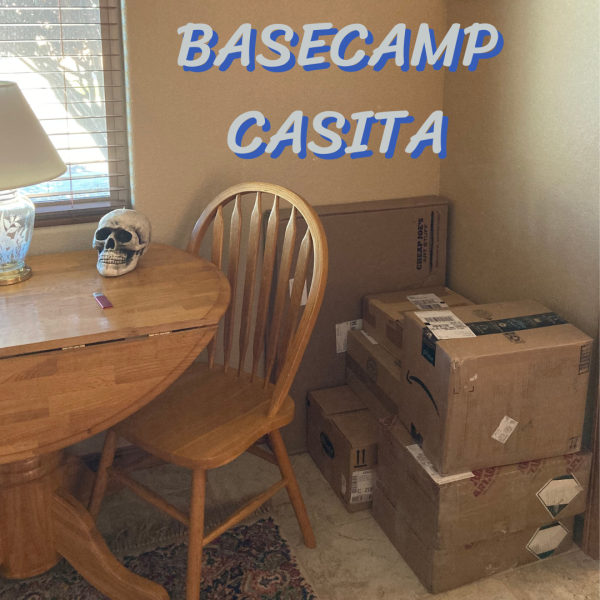 Next up will be the inaugural "Exploring Bandelier" series of posts I will start as soon as I get settled in at Bandelier and scope out how all of this is going to work!  Stay tuned!