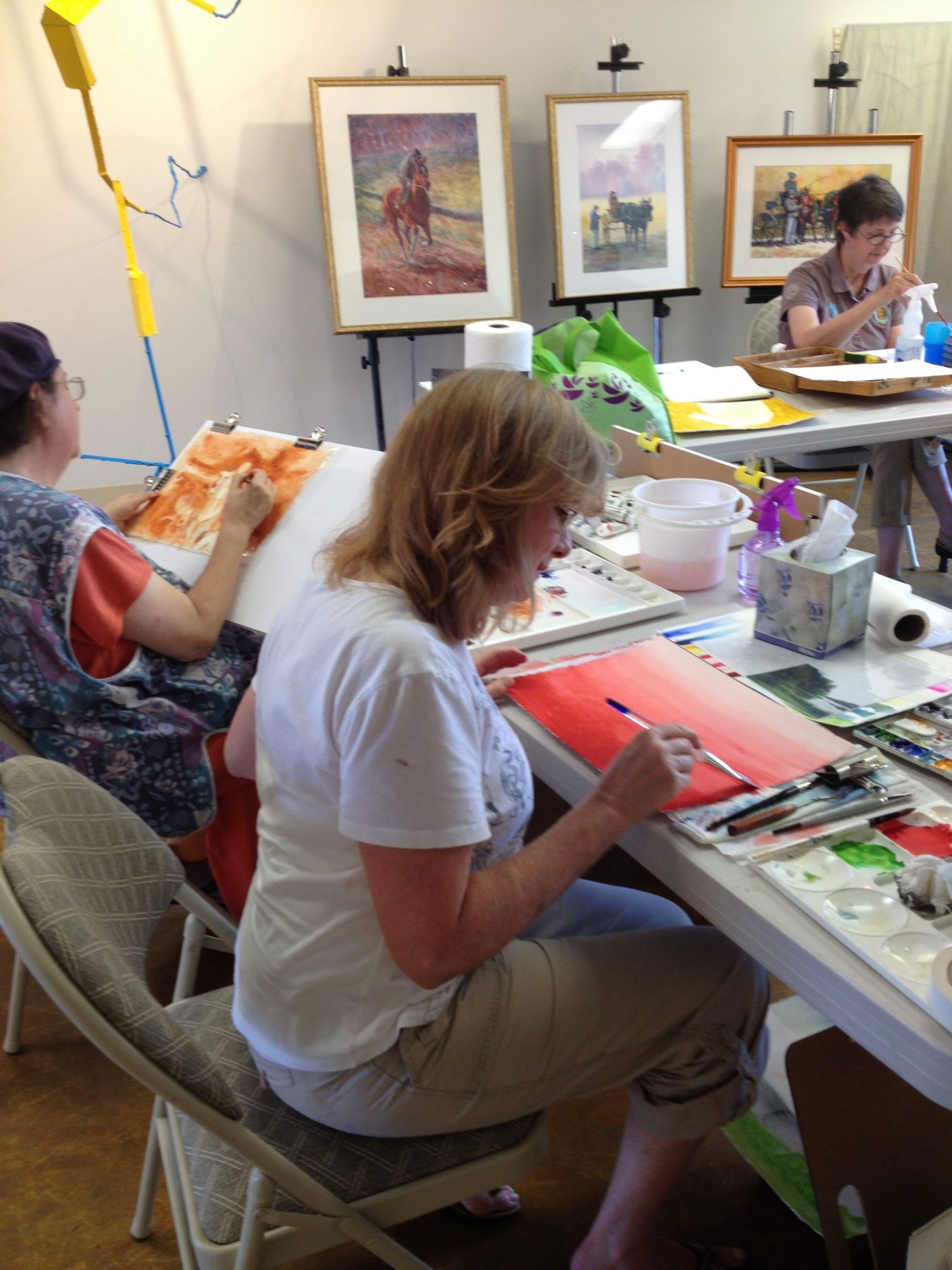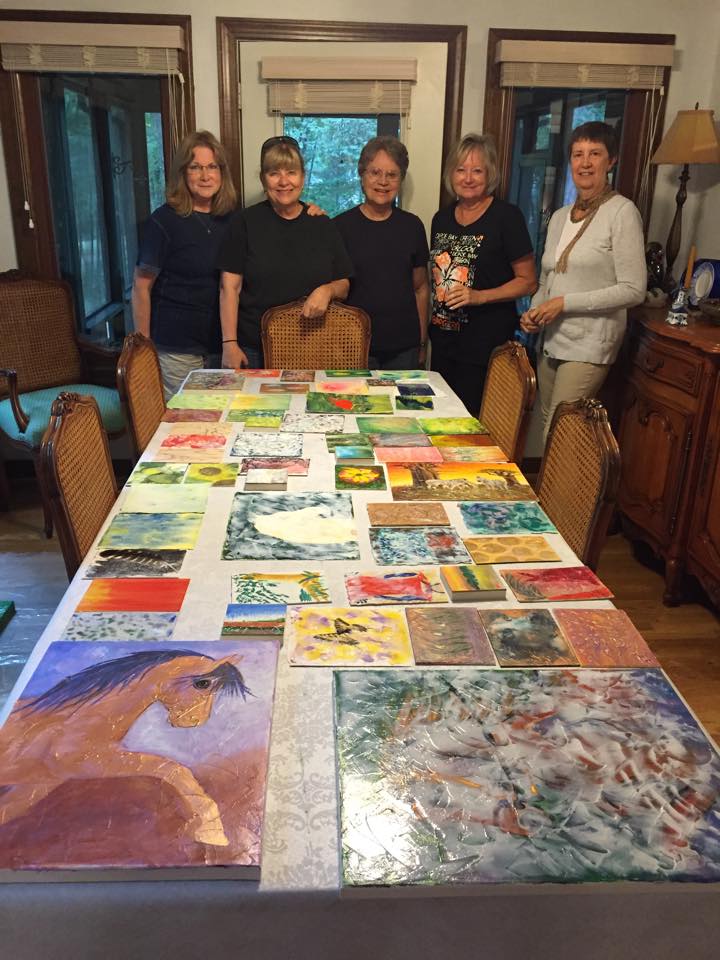 "Excellent in every respect!"
"Great workshop!  Well organized, (I've been to many as a teacher – presented by educators and professional artists.)"
"Awesome!  I learned a great deal!  Better than my college course!"
Workshop & Course Offerings
INTERESTED IN EXPANDING YOUR CREATIVE HORIZONS & TOOLBOX?
I offer several workshops to choose from!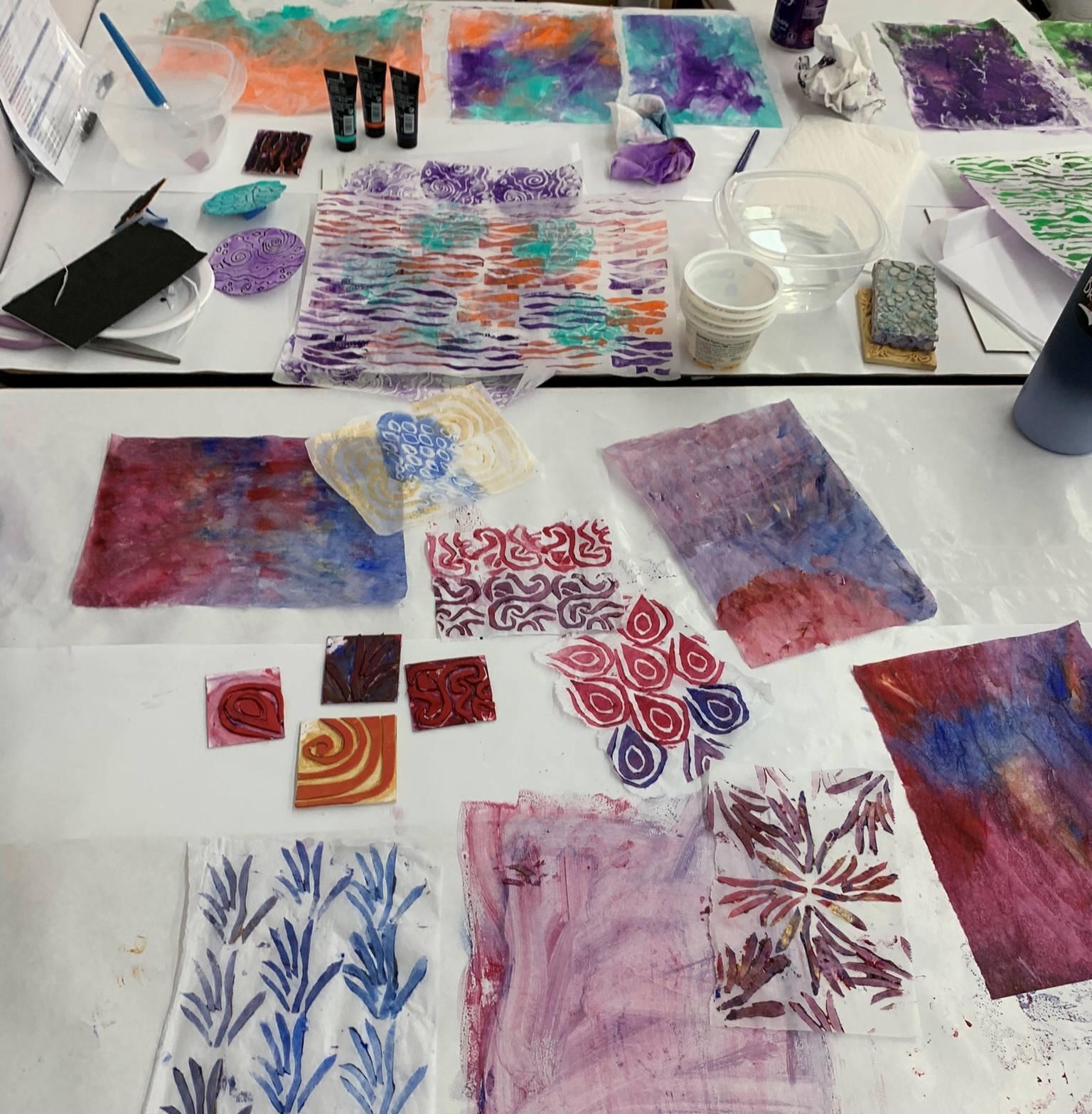 Creative Approach To Painting Workshop
You are invited!   Come into the encouraging and supportive atmosphere of the Creative Approach to Painting Workshop where we will explore fresh ways to rekindle your creative fires and show you how to find and follow what brings you joy in your creative practice!
Let's celebrate what makes you creative and help you rediscover the wonder of discovery and adventure in your art making!
Find more satisfaction not only in the art you create but also in the entire process of creating it using simple but powerful ways to reinvent how you approach your art making!
Build confidence in following your personal and unique creative intuition and learn to work with what you are creating to produce artwork that is fresh and infused with your own joyful intentions.   Your joy will flow into and through what you create to brighten the atmosphere of this chaotic world and we need more of that!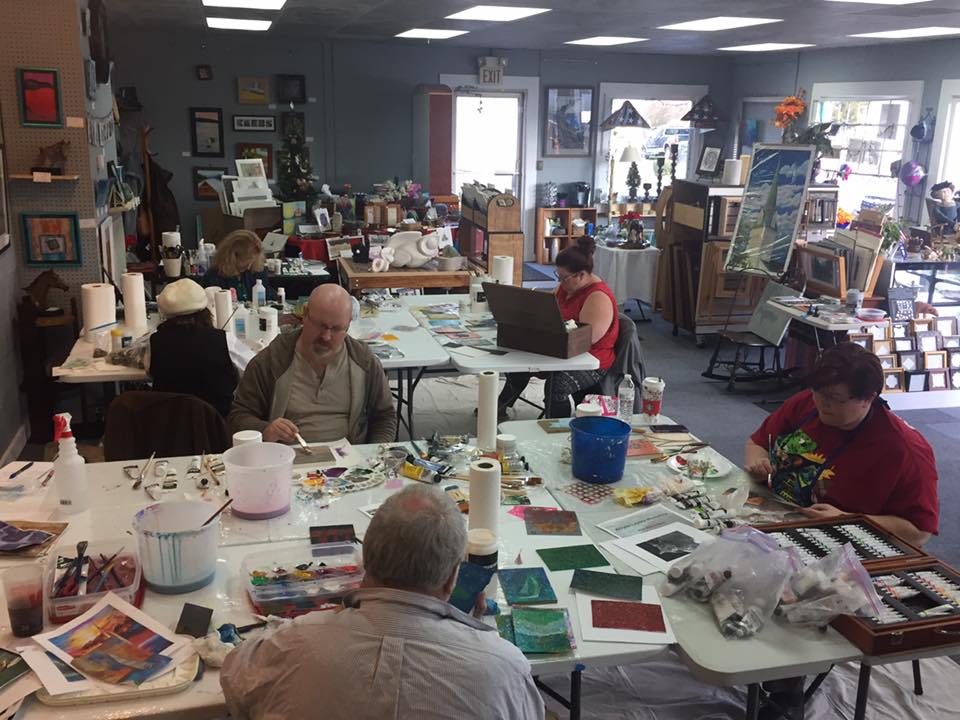 (Robyn's unique process to develop physical visual layers where earlier layers sparkle through)
The Acrylic Layers Process Consists of Working With Physically Distinct and Separated Layers in Developing a Painting.  This Results in Creating Actual Dimensionality, Seeing Through Physical Layers to What Lies Beneath, Hiding Things, Discovering Things…
The Acrylic Layers Approach Frees You to Explore and Express Your Creativity by Removing That "Hope Buster" Called "Expectation" and Opening You and Your Creative Process Up to So Many New and Exciting Possibilities!
Watercolor Your Way 2-Day Workshop
Have you always wanted to learn how to paint with watercolor but hesitated thinking it is a difficult medium to learn?  Have you been excited by the gorgeous glow and spontaneous effects watercolor can produce and want to learn how to capitalize on these unique aspects of the watercolor medium?  Are you looking for clear step by step guidelines to consistently create successful watercolor paintings? 
Build confidence and skill using simple concepts to harness the spontaneity of this versatile medium to create beautiful results.  Fill your creative toolbox with specific techniques, guidelines, and aids to simplify creating successful watercolor paintings.  Turn any hesitation, fears, and frustrations into excitement and joy in the making as you explore how to achieve specific results using watercolor.  Learn how to achieve different effects, glowing colors and how to intentionally harness the spontaneous characteristics of watercolor to create exciting and personal results; Watercolor Your Way!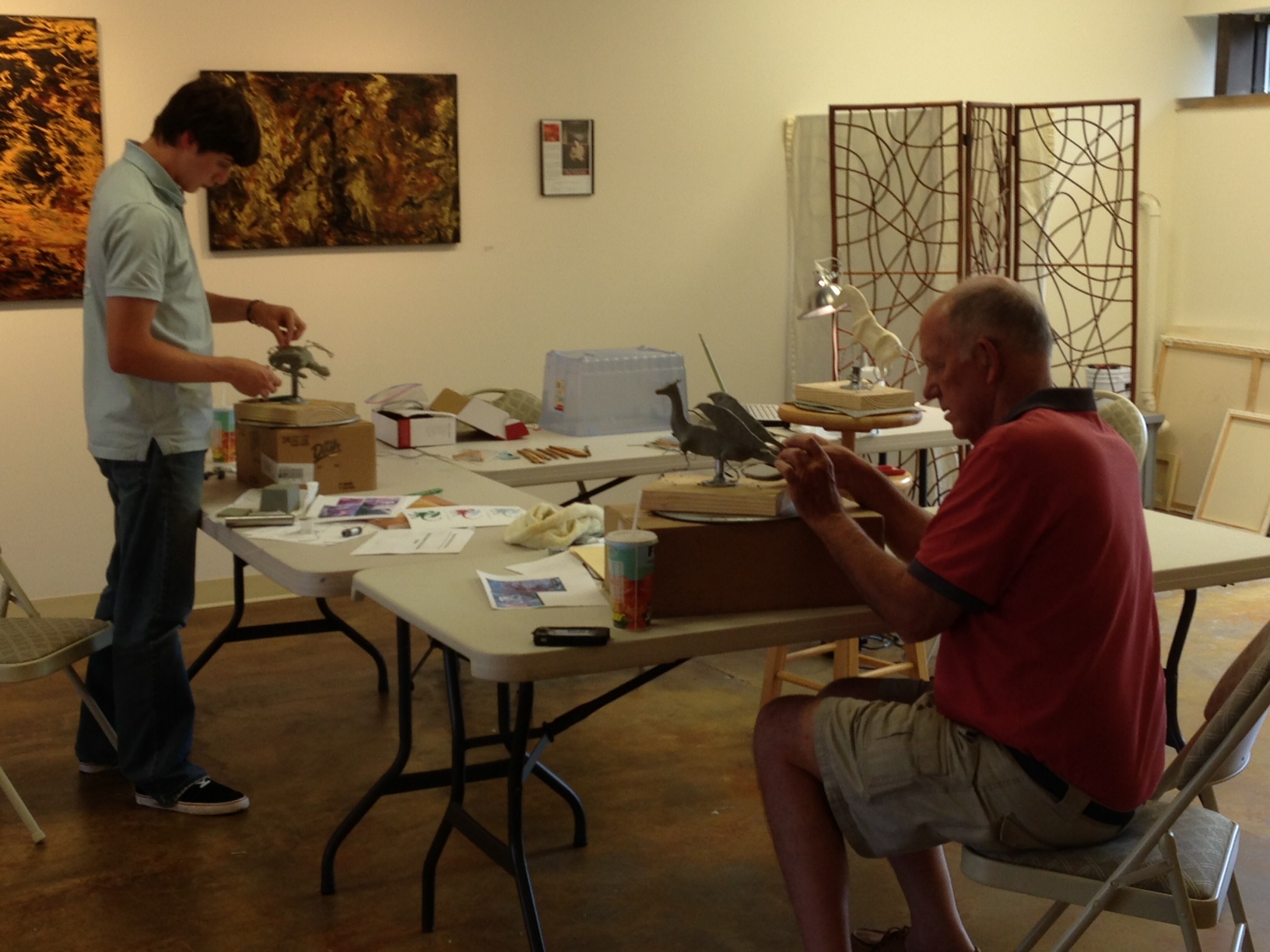 Sculpture Workshop
(from Armature to Details in Oil-based clay)
Contact me directly at Robyn@RobynRyanArt.com if interested.
SCHEDULE A TAILORED LEARNING OPPORTUNITY FOR YOUR ART GROUP!

Water-Based Media Classes (Watercolor, Acrylic, Mixed Media)
Acrylic Layers Workshop
Sculpture Workshop (Oil-Based Clay to be Molded and Cast)
Artist Talks
Demonstrations
Private Consultations & Critiques
Contact me at Robyn@RobynRyanArt.com to set up a session to discuss your and your group's unique requirements!
I am here to inspire and encourage your creative journey!
I have benefited from the teaching, inspiration, and encouragement of so many wonderful fellow artists and mentors!  My desire is to "pay it forward" and help you achieve your creative and artistic aspirations all while tapping into the joy of the "making"!
I love working with artists of all experience levels and seek to instill confidence and joy as you build your knowledge, skills, and abilities in pursuit of your creative vision and goals.
My role is to guide, encourage, and support you in…
Applying clear and simple methods to approach new mediums, techniques, and processes
Experiencing the joys of creating and the satisfaction of conquering fears and doubts
Building mastery and confidence to enable you to achieve your desired results
Dispelling the mysteries of "how do you do that?"
Freeing you to create with enthusiasm, find your artistic voice, and successfully express your creative intentions
My focus is providing a fun and uplifting environment within which we establish logical foundational "building blocks" (techniques, design principles, creative process skills & guides) upon which practical application approaches and decision making skills are built.  My goal is to teach you to create based on what inspires and excites YOU from a solid foundation reflecting your unique personality and artistic hand!
I can't wait to accompany you on this fantastic adventure!
Here are a few Video Demonstrations of my creative processes!
"Learned a lot!  Thank you ~ Excellent Job!"
"Please do this again soon!  Very organized and well supplemented with pictures…"
"Exceeded my expectations!"