Destination Bandelier ~ Trip Preparations ~ Part 2
"WHAT TO ORDER, TO SHIP, & TO CHECK…"
Welcome to Part Two of my TRIP preparations story for the month long Artist Residency at Bandelier National Monument only a three weeks away!  If you've missed any of the prior Destination Bandelier posts, here are the links so you can enjoy the full story!
Packing for a Month-long Art Trip:
So this part of trip preparations has been an ongoing process over about the last month… Making up my mind on what art supplies I think I will need during the Residency and how to get it to New Mexico!  I have lumped them into three categories:
What to ORDER and have shipped ahead of time to my friend in Santa Fe…
What to pack up and SHIP ahead of time from my current supplies in my studio and…
What to pack and CHECK to take with me on the airplane!
My wonderful friend in Santa Fe is truly acting as my "Base Camp" for this whole adventure!  In addition to from/to airport transport and allowing me to stay with them prior to and following the Residency, she is also letting me have packages in the "ORDER" and "SHIP" categories sent to her house in advance!  She will stack it all up in the Casita I will be staying in awaiting my arrival!
I tried to actually think ahead and also consider what I would need to ship back home when the Residency is done…  How big am I planning to paint?  What surfaces do I want to paint on? What mediums and supplies am I going to want to have with me?
In the past, when I traveled to study with my mentor in AZ or CA, I limited myself to 1/2 sheets of standard size watercolor paper since I can fit it and the gator board support in a single suitcase along with the paint, mediums, and other "stuff" and keep it under 50lbs!  This will be MUCH more than a week long visit so I know I need to expand my vision and supplies accordingly!
What to ORDER new:
I decided I will want to have full sheets of watercolor paper and full size gator board supports to work on…  This means a large box to accommodate the 22″ x 30″ paper and the 23″ x 31″ gator boards!  I do reuse boxes from prior paper orders but my current collection is pretty beat up, as are my current gator boards!  So I ordered new paper, my favorite, Kilamanjaro from Cheap Joe's.  I ordered both 300lb and 140lb weights since I only have a few sheets left in the studio.  I also ordered two new full size gator boards which will also serve as display surfaces for the painting demo's and the artist talk.
Next I shopped my normal sources and decided to purchase smaller painting supports and some basic gels & mediums from Dick Blick.  I want to have a fresh mixed media sketch book to act as my art journal for the duration of the Residency.  For the Plein Air painting I have also found my favorite surface is pre-gessoed 1/8′ panels since they are weighty enough not to blow off the easel yet are also compact for transport.  So I ordered several sizes of these panels and some mixed media boards for smaller works…  Instead of packing up half used bottles in the studio of gesso (for surface prep), gel (for my acrylic layers) and matte medium (for collages) I ordered fresh jars/bottles, especially since I can't really anticipate how much I will go through!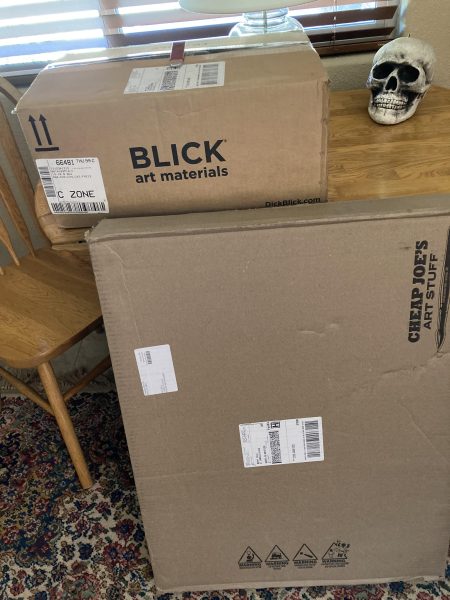 Ordered Supplies already stacking up in my friend's Santa Fe Casita I'll be staying at!
Finally, I ordered an assortment of NOVA Acrylics in 4 oz jars to supplement what I will ship from the studio.  The Direct Painting is using up more paint than I used to so I want to have plenty.  Frankly, this was a wonderful excuse to try out these paints as they come highly recommended from several artist friends…
What to Pack and SHIP ahead from the studio:
Being a mixed-media artist I want to be prepared to respond to the surroundings and inspirations with whatever media expresses my ideas best.  I will be bringing a variety of materials to work in multiple media including Watercolor, Gouache, and Acrylics.  My challenge is having enough variety on hand, while not bringing the kitchen sink!
The list below sounds like a lot but my goal is to have ENOUGH while also "keeping it tight" so I won't bring along EVERYTHING!!!  These pictures are my initial "staging" of supplies into shipping boxes to accommodate the variety of materials…  Currently I'm looking at using three boxes, not too big in order to avoid being tooooo heavy to easily move and awkward to pack into the car!  Since this staging session, I've already decided some of what is pictured will stay home and other items have found their way in… This long-term packing is a PROCESS too!
Acrylic Paint, Acrylic Inks, Toothpicks, Yogurt Cups and Glazing Medium!
Paint, Drawing, & Mixed Media:
Gouache
Watercolor
Acrylic (Heavy Bodied and select Fluid)
Graphite Pencils
Ink Pens
Colored Pencils (regular and water soluble)
Acrylic Pens
Acrylic Inks
Papers rice paper, tissue
Small gator boards, acrylic pens and paint, papers for making my own collage papers
Brushes & Studio Implements:
Brushes
Palette Knives
Spreaders & Misc tools
Stamps, carving supplies
Stencils
Geli plate
Brayers/Rollers
Sponges
Cheese Cloth
Toothpicks
Tape
Scissors, Exacto Knife,  Utility Knife
Apron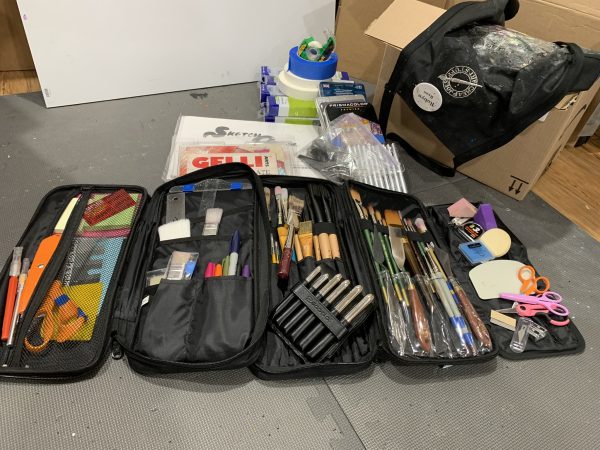 Brushes, rice paper, geli plates, tape, drawing materials, brushes, scissors, exacto & utility knife, STICKIES, sponges, spreaders, apron, ETCETERA!!!
What to Pack and CHECK on the airplane:
I plan to continue painting out with the Loudoun Sketch Club on the Tuesday's leading up to my departure… this means my Plein Air Kit will be traveling with me!  In addition, since I will be shipping all containers of paint ahead of time, I will work in watercolor until I leave for New Mexico!
I bring my scale over to the studio and weigh the suitcase to ensure I stay under 50lbs.  Looks like my large Sta-wet Palette will have to fit into this bag too since it won't fit in the boxes above!  Depending on weight, some of my personal things may slip into this bag too, my contour neck pillow for instance!  We'll see…
Plein Air Kit:

Back Pack
Plein Air Easel with tray and loaded watercolor palette
Empty Plein Air water bottles & sprayer
Implement bag with brushes, palette knives, etc.

Sta-Wet Palettes (large for studio, small for Plein Air)
Folding camp stool with storage
Table Ring and Stand Lights
Phone/Camera Holders
Medium Gator Boards
Cutting Mat
…and anything from above that ends up not fitting in the shipping boxes since the current items planned for the CHECKED suitcase only come to about 30lbs!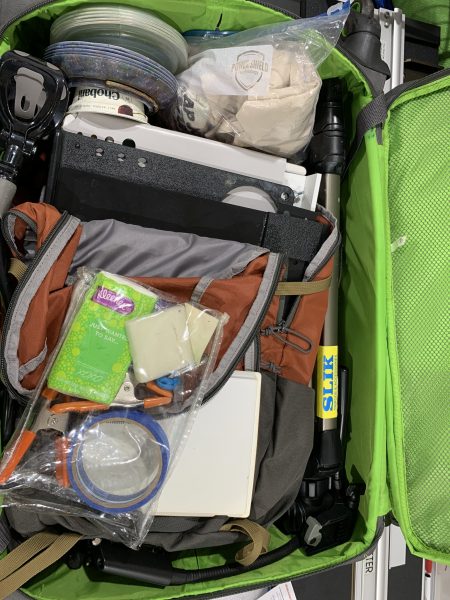 Testing to see how the Plein Air Kit will fit along with camera holders… two 1/2 sheet gator boards are underneath all that too!
What to BUY after I arrive:
Some things I will wait and buy once in New Mexico include the mundane items I can find at many stores anywhere!
Some of what will be left behind!
Water containers – I typically use lidded containers
Paper Towels – Bounty is my favorite!
Tissues – NOT the ones with lotion or scent!
Rubbing Alcohol – my acrylic "eraser"
Foam Plates – I often use these as mixing palettes and to make hand drawn stamps for making collage papers
Freezer Paper – I use this to protect the table surfaces I work on and can even mix paint on it if I like
Zip Loc Bags – Organize supplies, keep extra foam plate or yogurt cup contents moist, etc.
Drop Clothes – I'll be painting in someone else's space so want to be sure I protect the floors in case I drop or splatter something!  (I am a bit clumsy so this is a fully anticipated occurrence!)
Lord forbid I should need any additional art supplies while out there in New Mexico!  If so, I'll just have to make the terribly arduous trek to the Artisan art supply store in Santa Fe and pick up what I forgot or need there.  That will be dangerous (albeit a lot of fun… you can bet I'll stop in anyways just because it is a really cool place!!!)!  Artisan is a fabulous art supply store and it will be hard to resist that other color, or other implement!!!  I was checking out their website and found this fun story about Georgia O'Keefe shopping there!  Check it out…
As you can see, the STUFF for setting up my remote studio for this Residency is a key factor in determining the size rental car I reserved… It has all gotta fit in the car I pick up on 1 November!
Next time I'll be sharing more of the artistic preparation process with all of the wonderful outings so far with the Loudoun Sketch Club as I continue to practice painting Plein Air and Directly!  Stay tuned!