Destination Bandelier ~ Artistic Preparations ~ Part 3
"PRACTICE, PRACTICE, PRACTICE…"
Welcome to Part Three of my artistic preparations story for the month long Artist Residency at Bandelier National Monument only a few weeks away!  Last time I shifted gears from the artistic preparations and shared some of the travel arrangements and itinerary as well as my tentative schedule for the Residency itself.  This time I want to share how much progress I've been making on my Plein Air and Direct Painting preparation Focus Areas since Art Camp at Orkney Springs.
As a reminder, my preparation focus areas are defined as follows:
1) Plein Air painting ~ in this usage defined as – a painting executed out of doors and representing a direct response to the scene or subject in front of the artist.
2) Direct Painting ~ That is my term for painting a piece (onsite or in the studio) quickly and directly in as close to one sitting as possible… Quickly, at least for now, is looking like 2 hours or less to get a single piece 90 – 95% complete; Directly means mix the paint and put it on the painting without intending to go back over it again and again and again.
If you've missed any of the prior Destination Bandelier posts, here are the links so you can enjoy the full story!
Plein Air Practice
Home Attempt
When I returned from Orkney Springs, I really wanted to continue practicing with the new Plein Air painting "Kit" I had assembled and wrung out with Patrick.  So I pulled it out on a sunny Saturday morning and went out on my back deck.  My deck is pretty high up so I was looking down into the woods beside the house.  The way the light was filtering through the leaves and the dappled texture of both the tree leaves and the ground cover caught my eye.
So I pulled out the gouache and palette knife and dug in!  I thoroughly enjoyed myself and discovered I was getting lost in the application of the paint with the palette knife and not remembering to focus on shapes and values… So mid-way I stopped and really looked and went WOOPS!  Made some decisions to address the shape and value issues and ended the session quite happy with the result at the 90%ish completion point…  A few touches in the studio with fresh eyes and voila!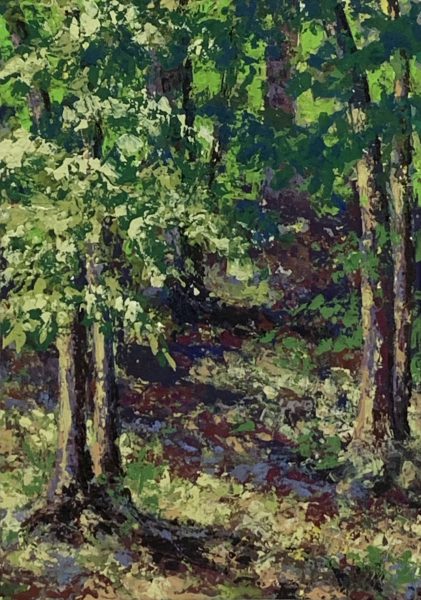 "Filtered Light" ~ 7″ x 5″ Gouache on 300lb Watercolor Paper
Invite a Painting Buddy
I had made a wonderful new friend back in March at an Art Business Mastermind Conference.  Turns out she lives only 40 minutes away in Manassas, Virginia!  Christine is a wonderful Plein Air painter and an amazing teacher so I invited her to come for a "Play Date" at the farm.  I live in such a beautiful spot with amazing views both in the fields and in the woods.
Christine came over and we took at least an hour touring possible spots in the golf cart, it was REALLY hard to decide where to paint, too many choices!  My cart driving skills were awarded the new designation of "Austin Powers" -like turning… you know, back and forth a gazillion times in order to turn around!!!  When we stopped giggling over my turning capabilities, we settled on the big trail in the woods since that dappled light and glowing tree trunks really caught our attention.  We set up about a 100 yards apart on the trail and got to it… I had the chance to pick Christine's brain on her set up, tools, and approach for what turned out to be a very complex subject!  I then got to work myself.
Here's Christine and her set up…
Here's my set up and end result…  Christine was set up just around the bend!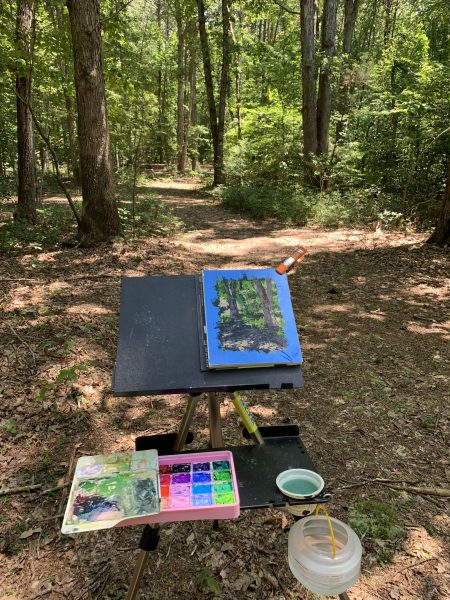 "Trail Light" ~ 7.5″ x 5.5″ Gouache on Watercolor Board
Direct Painting Practice
My Assignment
To give myself some direction, I decided to assign myself a challenge… to choose a painting I loved, analyze what I love about it, and then emulate those characteristics in a Direct Painting exercise.
My Approach
Choose and Analyze a Painting –  I selected a favorite painting of a coyote we bought in New Mexico years ago by Malcom Furlow.  It is very colorful with unexpected hues and color combinations… FUN!  It is not overly descriptive, using shape and line to define the subject… It has a rhythm of transitions throughout that catch my eye…  So I want to emulate some of these characteristics myself in color choice and relationships, use of some line, and not overly describing my subject!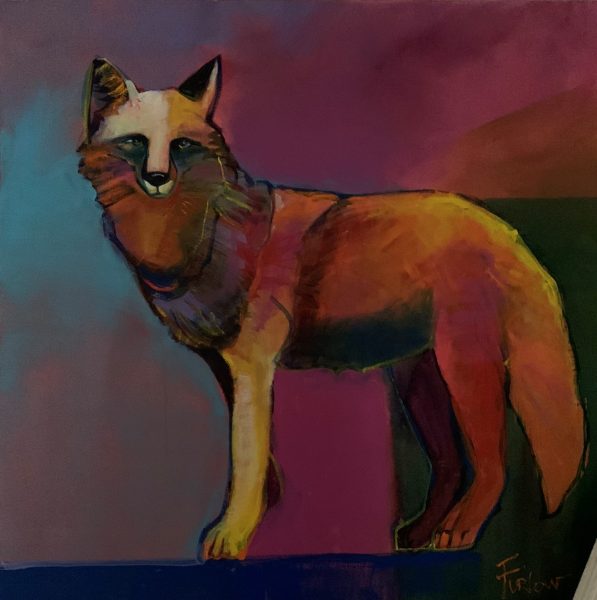 This is my Malcom Furlow Inspiration
Random Under-painting – I dug up an old watercolor start which had primary colors floated in random wet shapes, I especially liked the bright blue shapes.  I taped it off into four 8″ x 10″ quadrants.  Then I selected three additional bright colors (Red, Pink, and Teal) which would not be the natural colors of my subjects to work alongside the bright blue to create a bold color-field under-painting for each study.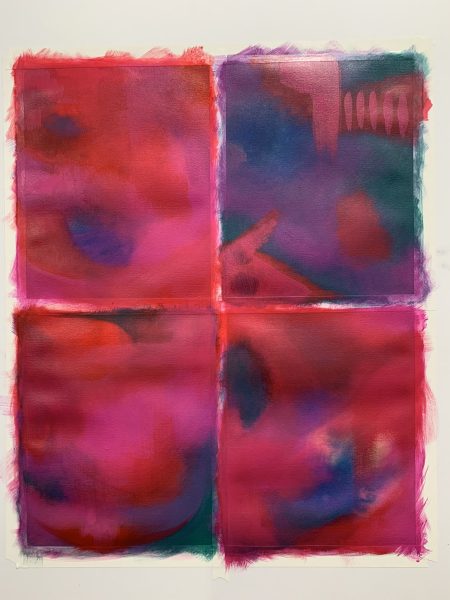 Here is the paper divided into quadrants with the bright under-painting
Select & Draw Models – I looked around my studio and found two of the four subject models I decided to paint on the shelf above the easel I was working on; I have a "taxidermied" red fox on that shelf as well as an in-process equine sculpture!  The other two subject models came from reference photos I had taken in my back yard from which I chose a young white tailed deer and another fox I spied in my garden.  I used charcoal to create loose drawings for basic composition and a framework for each model…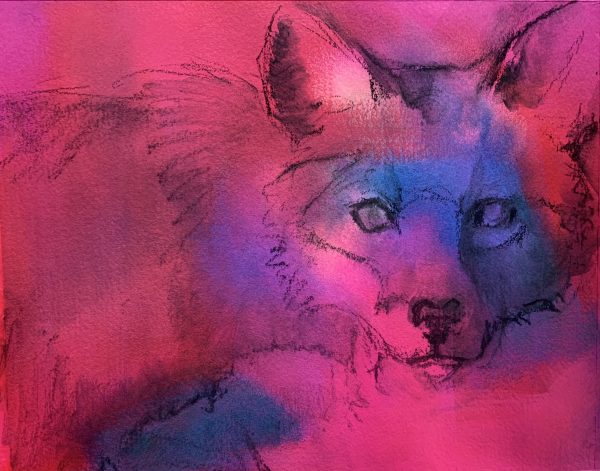 Mix that Paint and Put it ON! – The goal was to paint these quickly and to stay conscious and intentional of emulating the Malcom Furlow characteristics related to color relationships, use of line, and restraint in describing the details.  There was some wrestling with old habits and approaches…  For instance, the horse background went astray competing with the horse and took too much time trying to fix, fix, fix… I slept on it (not literally although it would have been dry enough!  HA!) and came back with fresh Furlow inspiration and repainted the background for a much better and less competitive result.  The foxes came together quickly, I focused on thinking about the color transitions, using the under-painting, shapes, and lines.  The deer I actually avoided as I couldn't decide how to start until I settled on a cooler overall effect with the shadows with glimmering highlights… YAY!  They all still feel like ME with my distinct "hand" but were achieved MUCH more directly and quickly than my normal work… Here are the final products, each is 8″ x 10″ Acrylic on 140lb Watercolor Paper.
"Look Up!"
"Arch"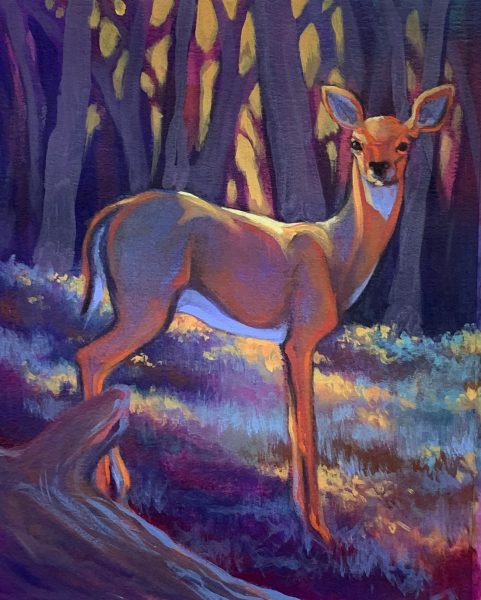 "The Yearling"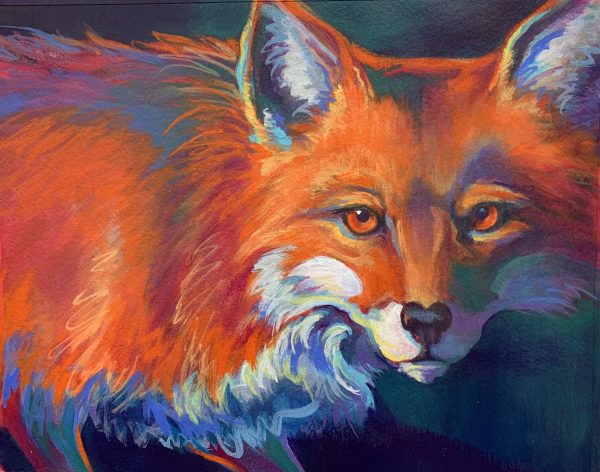 "Intensity"
Lessons Learned So Far…
This journey into my Plein Air and Direct Painting Focus Areas has proven to be exciting, challenging, and productive!  Here are some of the lessons I have gleaned so far in this preparation process:
When I fall back into old habits and patterns to be kind (not condemning) to myself, own it once recognized, and to simply shift gears back to the focus area objectives
Self assigned challenges WORK especially when the choices for direction are endless!
Usually frustration hits when a preconceived expectation is not met, meaning I've created too rigid of a vision of what the end result SHOULD be instead of focusing on the creative process and allowing the painting to guide me…
Learning the idiosyncrasies of the chosen media and tools is important… How does the color change as it dries?  How do I keep it moist and workable?  How does the painting surface affect my chosen application tools?
I need to figure out how to shift from this big duffle bag for the Plein Air "kit" to a back pack configuration…  I don't want to lug that big bag around on the trails at Bandelier!
Next time I'll share more about the logistics related to what to take with me and how to get it there!