Artist in Residence Adventure ~
Stage 8:  Focus for Final Push…
Excursion to Tsankawi
I had two more "I really want to be sure to do this" hikes to complete while here, the next one was Tsankawi (sank-ah-WEE), the sister site to the Frijoles Canyon Ancestral Pueblo village,Tyuonyi (Chew-OHN-yee).  Tsankawi features another ancient pueblo village ruin on the mesa top with breathtaking views, more cavates, and more petroglyphs!  My "base camp" friend Mary came out from Santa Fe to explore Tsankawi with me!  We had a blast!  We turned a two hour hike into a three hour one soaking up the views, chatting, and navigating the unique trails!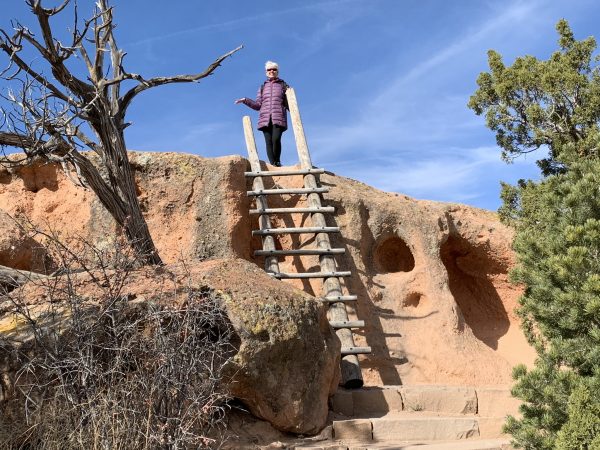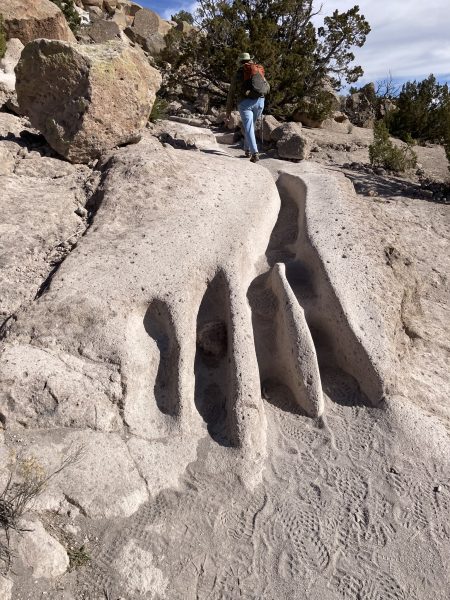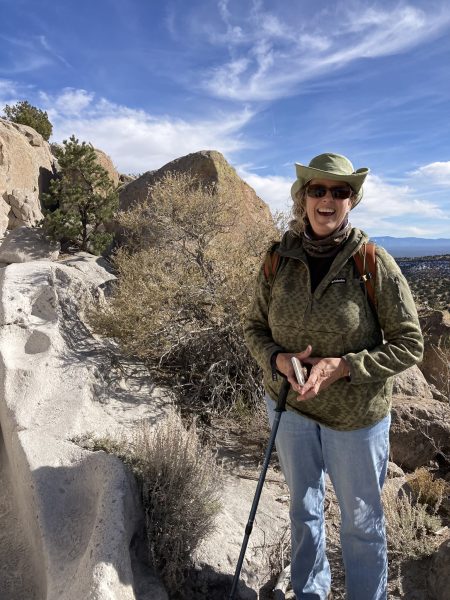 Tsankawi is a separate unit of the Bandelier National Monument, approximately 12 miles from Frijoles Canyon where the main Visitor Center is located.  Here is an excerpt from the Tsankawi Village Trail Guide, "In the 1400's, Tsankawi was home to the Ancestral Tewa Pueblo people.  Today their descendents live in nearby San Ildefonso Pueblo.  The Ancestral Pueblo people built homes of volcanic rock and adobe (mud), cultivating fields in the open canyons below.  Their daily lives left their mark on the land.  Low stone walls, carved drawings in the rock faces, and fragments of utilitarian objects are important artifacts left by the Ancestral Pueblo people."  I was enthralled with the deeply grooved pathways created by thousands of footsteps over time, the vistas from the mesa top were beautiful, and the evidence of the Ancestral Pueblo village ruins and chards from ancient pottery were amazing to experience.  At this point, I am delighted to report that I am facing climbs and precipices with calm and much more confidence!  VICTORY!!!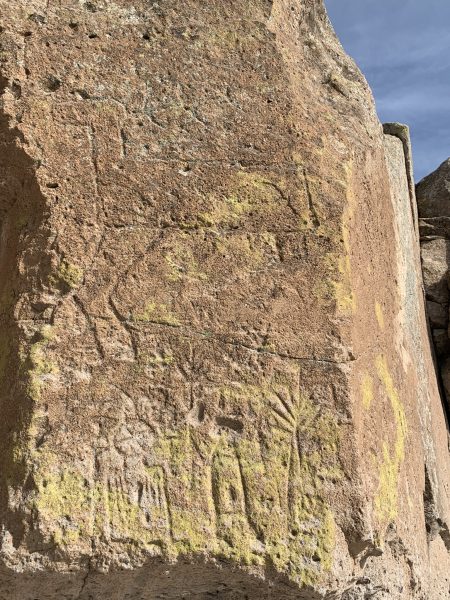 One highlight atop the mesa was encountering Ben and Hailey, along with their grandmother Patty who I had encountered two days prior when painting out on the trail in Frijoles canyon!  I had the delight of pointing out the sun petroglyph to them there and they remembered me!
I love how I will never drive Rt 4 again towards Rt 502 and NOT see those amazing foot trails on the mesa of Tsankawi!
Thanksgiving Break
I headed to Base Camp in Santa Fe early afternoon on Thanksgiving day!  Mary and Jim prepared an amazing meal, I contributed green beans and wine, Kay and Vicki brought incredible roasted vegetables and more goodies.  Jim's turkey was delectable, Mary's corn bread stuffing and cranberry sauce were irresistible, and then pie with hand-made whipped cream!!!! Oh My Goodness what a meal!  It was a lovey, intimate meal, lot's of fun and no drama!  I took the opportunity to surprise Jim with a small portrait of Tina, the queen of the household, as a small token of my appreciation for receiving and lugging all of my packages I had shipped out in advance!  I was thrilled that he loved it and that it really captured Tina's vivacious terrier personality!  We had a pot of tea to close out the evening and then I rolled out to the casita to sleep off the magnificent feast!
In the Studio!
All of these "percolating" ideas and impressions… Time to start getting some of that out on paper!  The day before and morning of Thanksgiving, I prepared twelve 300 lb watercolor paper sheets of various sizes with my textured under-paintings.  At this point I had decided to work solely in acrylics.  One of my favorite things is to create these colorful, randomly textured backgrounds dampening the paper, applying colorful washes, then watching the moisture level as they start to dry and spatter with water, paint, or both!  It is a process which requires waiting for that perfect point to splatter.  Of the twelve sheets prepped, I started under-paintings for nine.  I decided in advance what I wanted my intention for each piece to be, which then guided what colors to use and how to arrange them.  In this picture you can see how far I got before heading to the Thanksgiving Feast!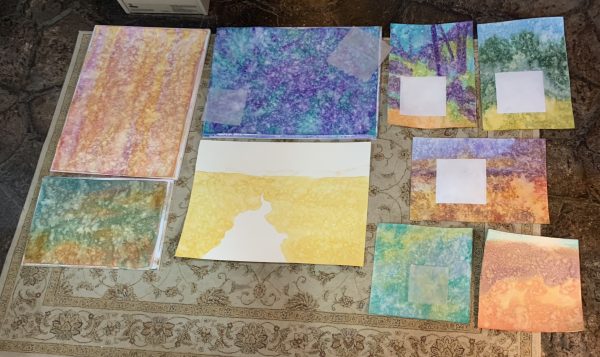 When I returned from the "Feasting" in Santa Fe, I quickly got back into my artist mode and began to develop the under-paintings based on my "declared" intentions for each.  I knew I would not have any fully resolved while here in New Mexico, so I decided to get started on each of them so I could better convey each intent and how I planned to pursue it for each piece at the culminating Artist Talk on Sunday!   I will share how far I got in the next post about the Artist Talk and my summative "inventory" post I will create to record all that I produced during the actual Residency.  I owe a big thank you to Ranger Sally King who is a wonderful photographer and supplied me with numerous reference photos she took of wildlife in the park!  I will definitely take advantage since I want to capture the different types of wildlife in the different environments!
Related side-story… So, if you are not aware, I have been what I call a "BINGE" painter for decades!  With a full-time job and other responsibilities, I have found carving out focused time (meaning days apart) for producing my artwork to be a very effective way to work.  Well, this Residency is the ultimate "BINGE" so far!  That is all well and good, however, there is a delicate balance to strike between production and "flow".  I have spent the entire year until now, learning how to BE and BE OKAY with not DOING/ACCOMPLISHING something all of the time.  Why?  Because I want to create joyfully, authentically, and consistently, not just on demand to meet deadlines and quotas!  I wrestled with this and now consider myself a "recovering DOER" meaning in the past in both work and art, production was a priority vs. the process and the act of making itself.  The problem with to much emphasis on DOING, when I focused on production as the priority, I could become resentful of the effort and my best and most authentic work could be stifled.  I prayed to not go there as I enter the homestretch of this Residency and I got the clear impression back that "Whatever I get done is ENOUGH!
The Last Public Paint Out at Long House
This is it!  My final live paint out on the trail with visitors!  I decided to go to the very end of the accessible trail at the end of the Long House.  I visited Long House several times while here as I loved searching out and getting pictures of the petroglyphs in different lighting conditions.  The combination of the cavates, tuff dwelling ruins, shear cliffs and petroglyphs make this one of my favorite sites here in the park.  Normally the trail continues on a mile or so to the Alcove House, an intact Kiva in a huge cave, halfway up the North canyon wall, accessible via 140 steps up 4 different ladders!  I'll share more about how I still got to see Alcove House next time.  Even though this trail closure is clearly stated on the website, a majority of the visitors got to this point and were surprised and disappointed they could not continue.  I put on my "Park Ambassador" hat and explained why the trail was closed for site restoration and bridge repairs.  I reminded them that at least they got to see the November Artist in Residence at work, which started up some lively interactions and conversations!  My friend and Ranger, Jerome Martinez, came by and made sure visitors were aware of what the Artist in Residence was up to!  Thanks Jerome for all of your support!!!  Jerome is also an artist and you can find his work at https://puebloprints.com!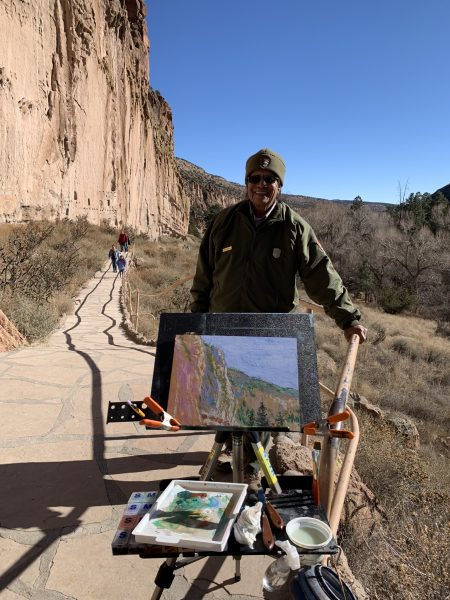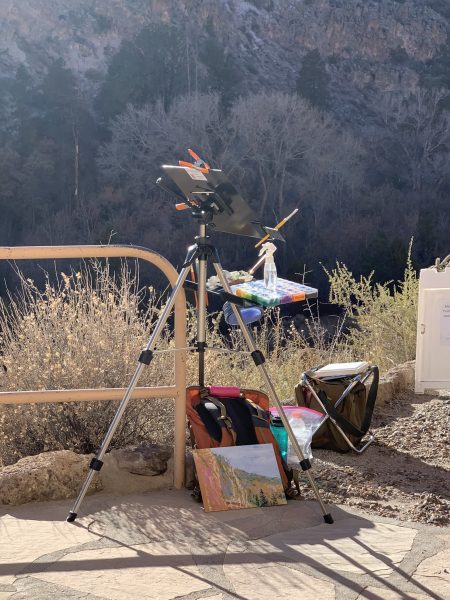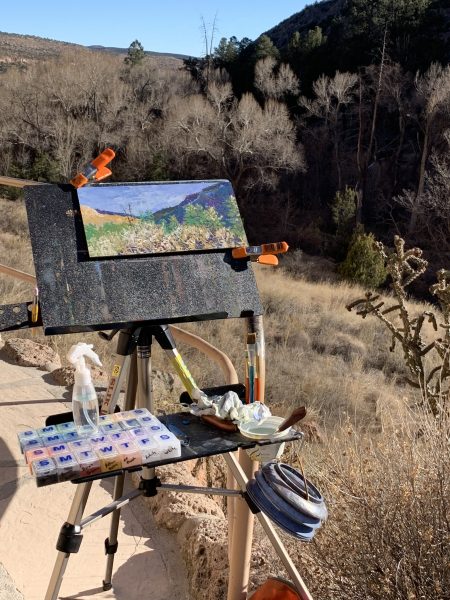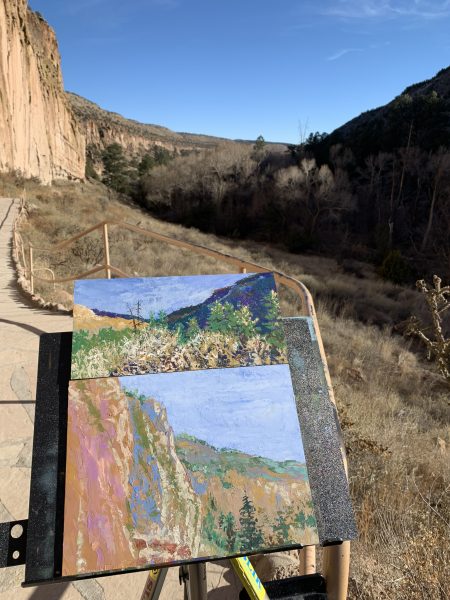 Next time I'll share the culminating events!  The Artist Talk and the Frijolita Rim Trail hike to find the view across the canyon of the Alcove House!
If you're interested in the other Bandelier Artist in Residence ~ Adventure  posts, here are the links so you can enjoy the full story!
"Artist in Residence Adventure ~ Stage 8:  Focus for Final Push…"