Artist in Residence Adventure ~
Stage 3:  Explore & Initial Game Plan…
Last time I touched on what initially attracted my attention and what has been emerging as my "favorite" features.  This sparked interest into digging deeper into the details surrounding this special place.  Reviewing the ample information about the park, its features, and its history from the museum, along with trail guides and maps I purchased at the gift shop gave me some solid basics…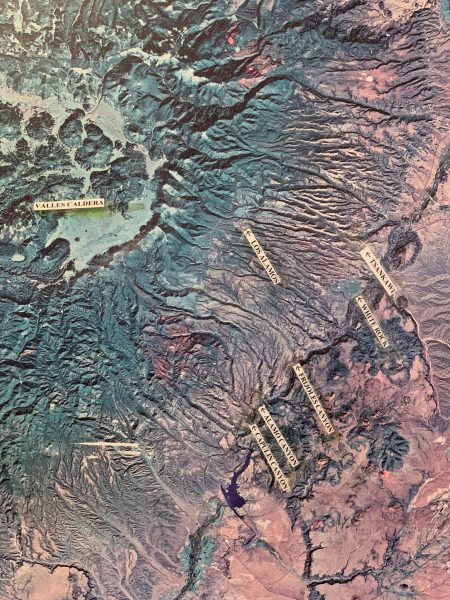 Here is an excerpt from the National Park Service website describing this amazing and diverse location:  "Bandelier National Monument sits at the southern end of the Pajarito (Spanish for little bird) Plateau. The plateau was formed by two eruptions 1.6 and 1.4 million years ago. Home to the Bandelier Wilderness, Bandelier ranges from 5340 ft at the Rio Grande to the south and 10199 ft at the summit of Cerro Grande to the north, almost a mile of elevation change in just under 12 miles. This elevation gradient creates a unique diversity of habitats specific to Northern New Mexico. The diversity of habitats and quick access to water supported a relatively large population of Ancestral Pueblo people. Currently, Piñon-Juniper woodlands dominate in the southern parts of the park transitioning through ponderosa pine savannahs and forests finally reaching mixed conifer forests at the highest elevation. Scattered throughout the park are desert grasslands, montane meadows, and riparian areas in the canyon bottoms. Bandelier is home to a wide variety of wildlife. The backcountry trails at Bandelier climb in and out of deep canyons and cross large flat mesas, showcasing the entire spectrum of volcanic geology."
Frijoles Canyon, where the park Visitors Center along with staff offices and quarters are located, was formed from compacted volcanic ash originating from volcanic eruptions from the Valles Caldera which is the subject of my next blog…  This compacted ash is called Tuff which the Ancient Pueblo Cultures who lived in this canyon dug out cavates (Excavated Caves) and carved tuft bricks to build their homes and villages.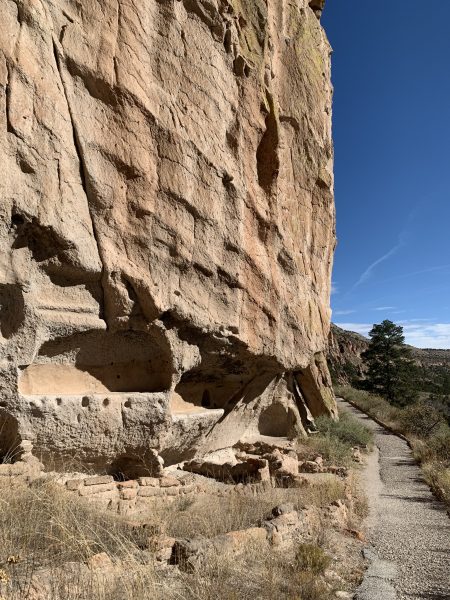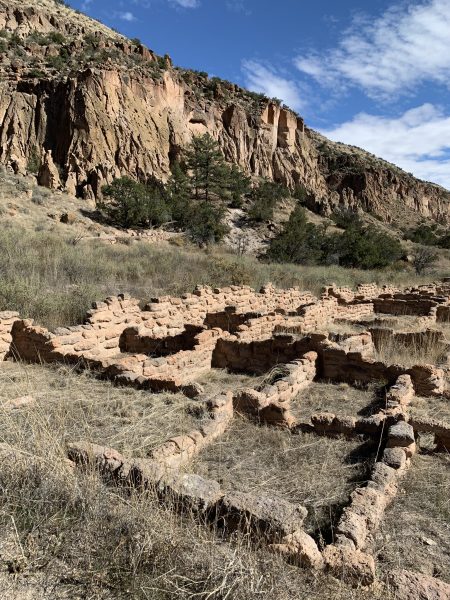 The Rangers were extremely helpful!  Gary educated me as to the number of cavates which exist all along the North wall of the canyon, clearly seen once you know what to look for wherever the canyon floor (often steeply sloped) meets the canyon wall.  He also showed me a book by the archaeologist Edgar Lee Hewett who played an extensive role in establishing Bandelier National Monument.  Hewett documented the ruins with these amazing plates showing all the cavate locations along the North wall of Frijoles Canyon… 13 sections!  Cavate is a term created by Hewett which is pronounced CAVE-ATE which stands for excavated cave.  I had a really hard time remembering how to pronounce it until Gary gave me that back story… now its sticking!!!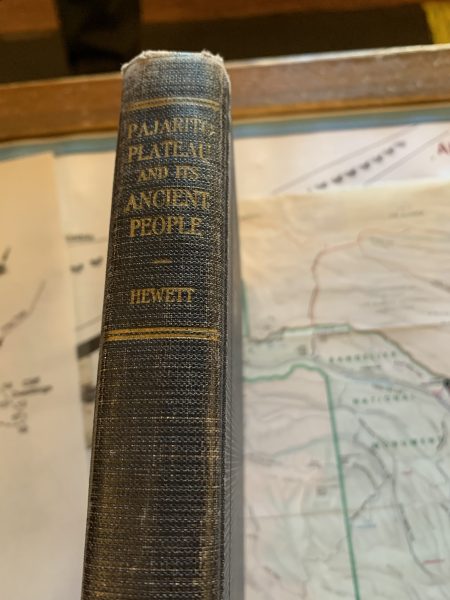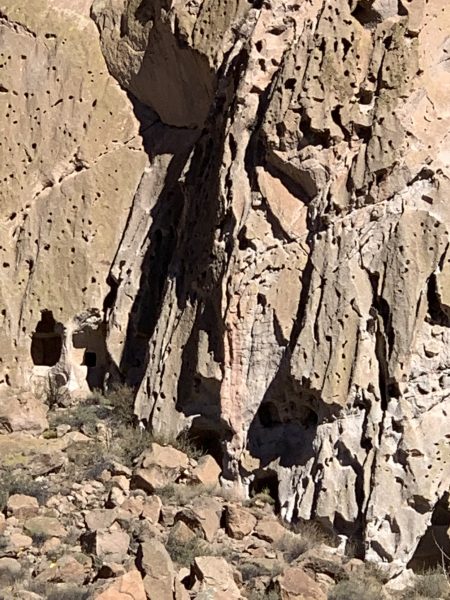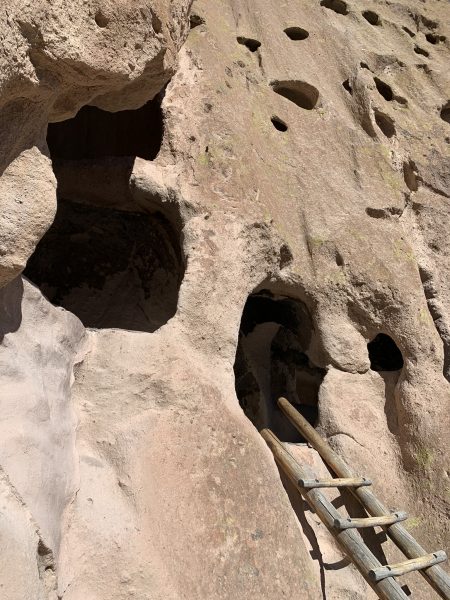 Zach, my primary POC at the Park, and I met Friday morning to go over my list of questions, draft a public interaction schedule and announcements, paint location guidelines, and acquiring an additional table for the "studio"!  We decided to do all public activities over the weekends throughout November.  So we created a flyer with firm dates for live painting sessions on the trail or at visitors center from 11am-2pm, and specific events at the visitors center 1-3pm including a watercolor demonstration, layered mixed media demonstration, and culminating Residency Artist Talk the Sunday after Thanksgiving.  With all of that settled it felt like the start flag was waving to go full-bore!
My final preparation projects consisted of tearing full sheets of watercolor paper into quarter sheets and loading both my gouache paints and acrylic paints into the compartmentalized vitamin holders to allow ease of transport and opening only those paints in use in this dry climate!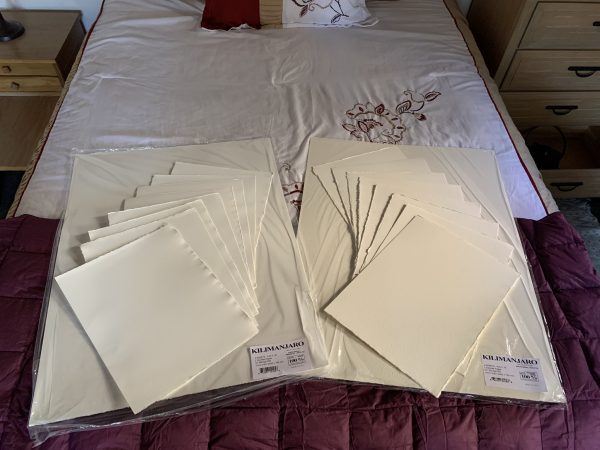 My first weekend as Artist in Residence initiated my live painting on the Pueblo Loop trail and at the visitors center.  Saturday I prepped my plein air kit with my gouche paints and a divided quarter sheet of watercolor paper affixed to a quarter sheet gator board.   I chose a spot between sign posts 9 (the Tsyuonyi Pueblo Village ruins) and 10 ( the Tallus House) in an alcove with a semi-circular stone bench off the main path to set up at.  I started with the view to the south with the cottonwoods backlit against the dark south canyon wall and the village ruins in the foreground.  My second study focused on the view up the canyon towards Los Alamos which included both my favorite outcropping and favorite ponderosa pine!
I must have spoken with 40 visitors that afternoon!  What fun… my favorite was a 7 year old entrepreneur who got really excited that I needed to sell these paintings so I could buy more art supplies… and my reply?  That is a GREAT idea!!!  ; )  Also had the pleasure of visiting for a few minutes with Jerome Martinez, one of the park rangers who himself is an accomplished artist.  We compared notes and I enjoyed seeing examples of Jerome's artwork!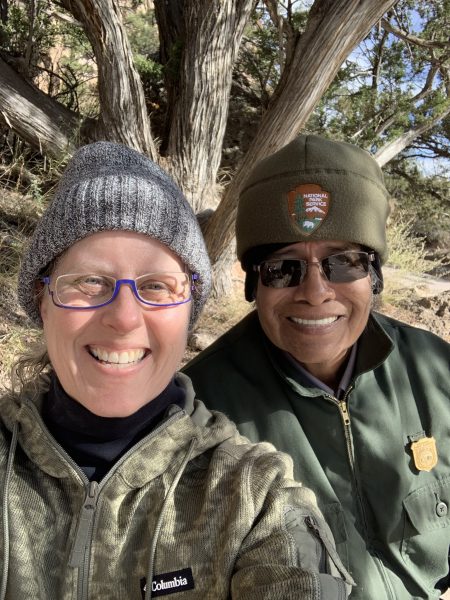 Sunday I set up my plein air kit loaded up with my acrylics on the Visitors Center patio to paint the North canyon wall above my casita.  I started with creating textured backgrounds and was very amused to find I was waiting for "paint to dry" even in the New Mexican climate!  I then used water-soluble colored pencil to draw the designs in, the first a close up of the cavates and canyon fissures above my casita.  The second was a broader view of the North canyon wall including the slope below and azure blue sky above…
It appears my commitment for public interaction is going to be very successful!  Visitors were very curious and engaged both on the trail and at the Visitors Center during this first weekend "in Residence"!   I very much enjoyed interacting with them and encouraging their enjoyment of Bandelier National Monument!  Next time I'll share my "field trip" to Valles Caldera with the founder of this Residency, photographer David Halpern!
If you're interested in the other Bandelier Artist in Residence ~ Adventure  posts, here are the links so you can enjoy the full story!
"Artist in Residence Adventure ~ Stage 3:  Explore & Initial Game Plan…"