Artist in Residence Adventure ~
Stage 1: Travel & Acclimation…
Travel ~
The early Saturday trip to Albuquerque was thankfully uneventful and smooth except for a bit of turbulence in flight.  Being met at the airport by my friend Mary was a delight and saved me both hassle and dollars of renting a car at the airport!  One of Mary's friends, Dani, joined us for a late lunch at a wonderful Thai restaurant in Albuquerque, food was fantastic and conversation lively…
We arrived at Mary's home and settled me into the Casita alongside all my pre-shipped packages!  I was thrilled that their dog, Tina, took a liking to me immediately since she is typically suspicious of strangers!  We took Tina for a long walk through the neighborhood and enjoyed the view of mountains in all directions!   Walking felt great after the hours of flying in coach!!!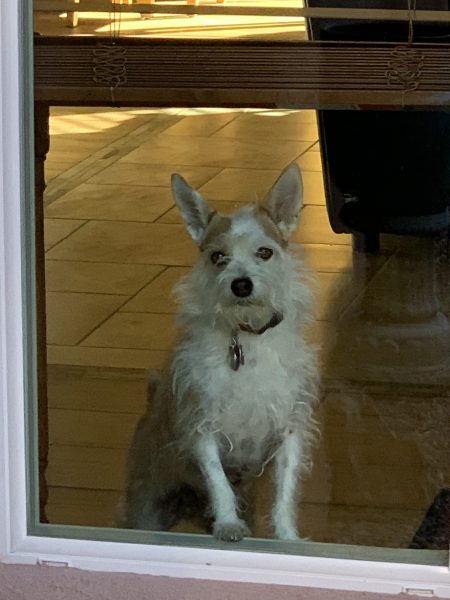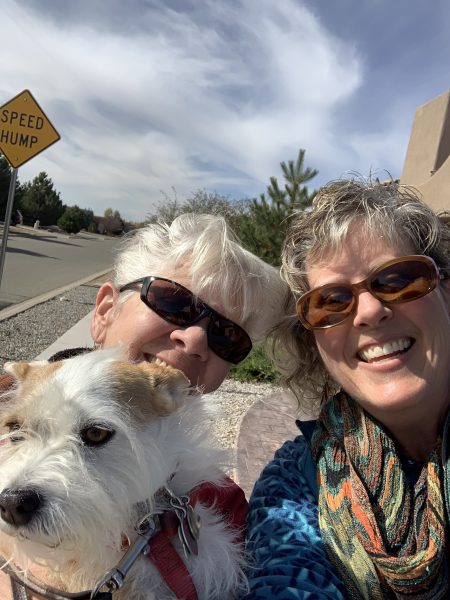 Tea Party ~
The casita proved very comfortable, and Sunday started leisurely with coffee, cereal, and conversation… Mary had planned her second annual Halloween Tea Party for that afternoon to include introducing me to her friends and sharing my upcoming Artist Residency at Bandelier National Monument.  I've never participated in a REAL Tea Party before, and it was really special!  Mary has a lovely teacup/saucer and teapot collection which were all put to good use Sunday afternoon!   Everyone was lovey and it was a delightful event full of tasty goodies, wonderful teas, and interesting conversations!  Afterwards, Mary, her husband, and I then enjoyed a delicious dinner at a local restaurant… I had salmon tacos which were out of this world!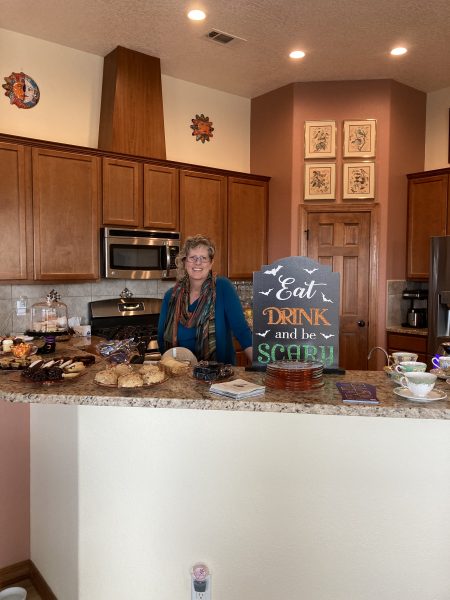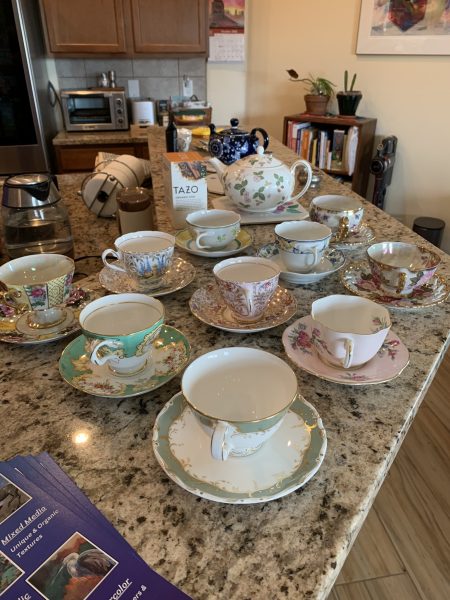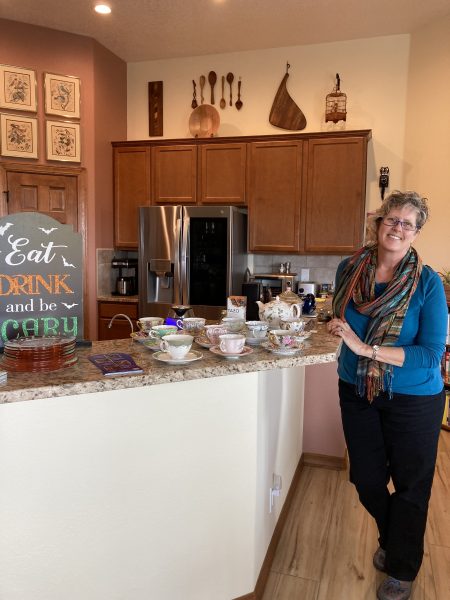 Altitude Sickness ~
Despite what seemed like prolific water consumption Saturday afternoon and Sunday, I still succumbed to altitude sickness Sunday night with a major bout of dizziness.  Santa Fe's 6500' elevation vs. sea level at home decided to wreck me this time!  it caught me by surprise since it had rarely bothered me on my numerous trips to Taos in the past.  Ah, the joys of your body changing as you age, I suppose!  Well Mary was the most incredible hostess and nurse as I slept most of Monday away… so much for our Santa Fe play plans, but the Panera chicken noodle soup Mary brought me for lunch was delicious and restorative!
Shopping ~
I slept some more and continued to improve through the afternoon, enough to go to the grocery store for initial shopping to sustain myself while living at Bandelier National Monument!   I received confirmation of a fully equipped kitchen at my quarters at Bandelier so I was able to tailor my shopping list accordingly.  I had opted to wait until I got to New Mexico to shop for month long food and toiletry requirements!  The cart provided needed support as I was still a bit weak but that didn't stop me filling it to overflowing!  Mary and I took guesses what this cartload of food, household, and personal products would cost me… I had anticipated a chunk of change and it came in a bit less than my guess, so I was happy!  We finished the evening with a light dinner, consolidating shipped packages from 10 to 7 boxes, staging suitcases for packing in the morning, and getting to bed early to bed early!
Rental Car & Packing ~
If you read my logistics preparation blog, you heard I joined AARP for the sole benefit of getting a 30% discount for car rentals from Budget Rental Car!  Icing on the cake was the additional free upgrade at the counter for members based on what was available on the lot!  Well, I hit the jack pot!  Instead of a Toyota Camry or similar full-size car, the attendant put me in a Ford Explorer!!!  SWEET!!!  I know I could have fit it all in the full-size car (probably wouldn't have been able to see out the windows!) but this would make packing the luggage, the groceries, and the shipped boxes a breeze.  I followed Mary home and loaded up the Explorer lickity-split!   We exchanged thank you's and hugs and confirmed plans for "base camp" activities throughout the month ( Mary coming to Bandelier, Georgia O'Keefe's house/studio tour, and Thanksgiving! ).  I headed out for Bandelier at about 10:45, right on schedule to arrive at the park around noon to start my Artist in Residence adventure!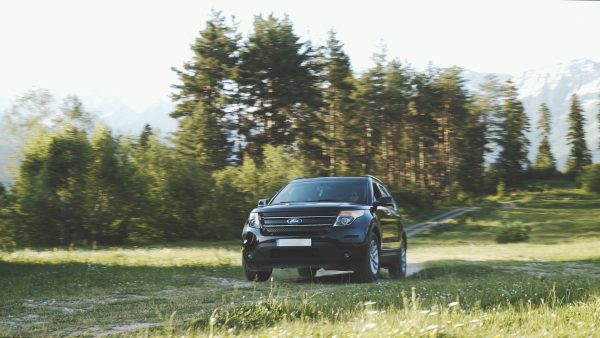 I can't thank Mary and her husband enough for providing me such a lovely start for this month-long trip and continuing as my "base camp" for the duration of my stay in New Mexico.  Stay tuned, the adventure has just begun!
If you're interested in the other Bandelier Artist in Residence ~ Adventure  posts, here are the links so you can enjoy the full story!
"Artist in Residence Adventure ~ Stage 1:  Travel & Acclimation…"