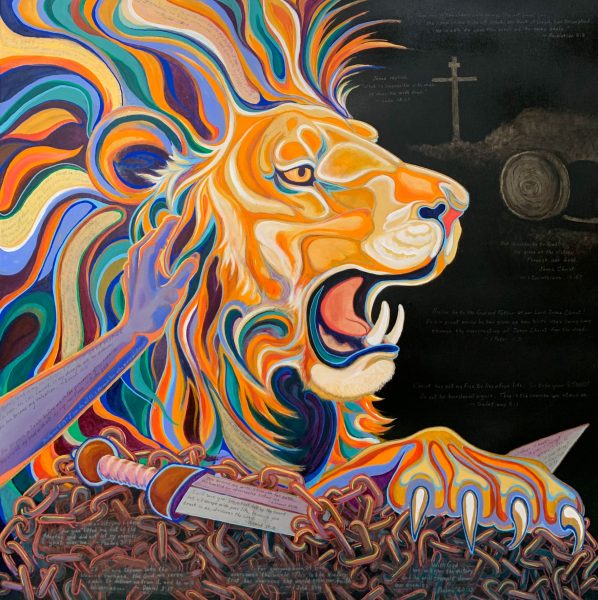 "Resurrection Courage" 30″ x 30″ Acrylic on Raised Birch Panel
This has been a very new and exciting project for me in this new season!
This part of the journey, the Gala event itself and the finalizing of the "Resurrection Courage" painting during the event, is captured in this short video titled "The Gala ~ Painting Live Resurrection Courage"
CLICK HERE TO WATCH THE FINISHING OF THE PAINTING AT THE GALA EVENT VIDEO!
A lot of energy and effort went into creating this painting and preparing for painting live during the 2022 Zoe Freedom Center Gala, as I documented in the prior blog post with a short video providing insights into the process, Making of "Resurrection Courage" ~ Zoe Freedom Center 2022 Gala Painting Preparations.
CLICK HERE TO WATCH THE MAKING OF VIDEO!
The style of the painting was chosen based on my Equine Shapes series which breaks the familiar shapes of the subject matter into smaller pieces and uses bright colors with bold lines and patterns to convey the desired intent.  This shape and color based style coupled with the four major elements I focus on in the "Resurrection Courage" painting (which I share in both videos) works beautifully to bring the power of the intended "Resurrection Courage" message to life.  Bottom line, this life is very challenging and we cannot do it in our own strength!
The experience was incredibly rewarding and totally worth it!  The venue was the lovely Stevenson Ridge in Spotsylvania County and the Gala's program was on point and very moving.  "Resurrection Courage" was sold during the event as part of the evening's silent auction.
The painting was so well received by the organizers, audience, and staff… this reinforced what an honor it was to support such a worthy cause.  Click HERE to learn more about Zoe Freedom Center and its vital work.