Acrylic Layers Workshop Mini-Series
Robyn Ryan's Acrylic Layers Workshop
Mini-Series
Free and Empower Your Creativity in a New and Fresh way!
The Acrylic Layers Process Consists of Working With Physically Distinct and Separated Layers in Developing a Painting.  This Results in Creating Actual Dimensionality, Seeing Through Physical Layers to What Lies Beneath, Hiding Things, Discovering Things…
Let me be your guide into this incredibly FUN,
CREATIVITY BOOSTING world
of my Acrylic Layers Process!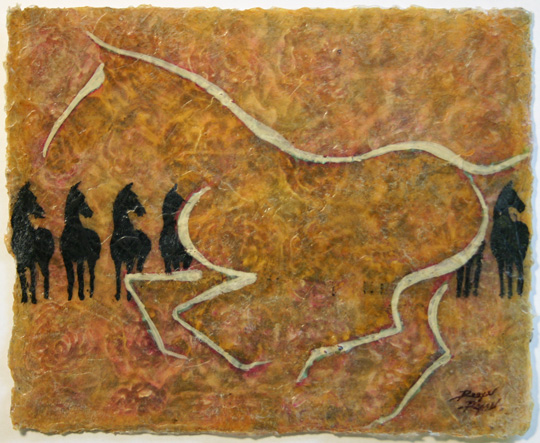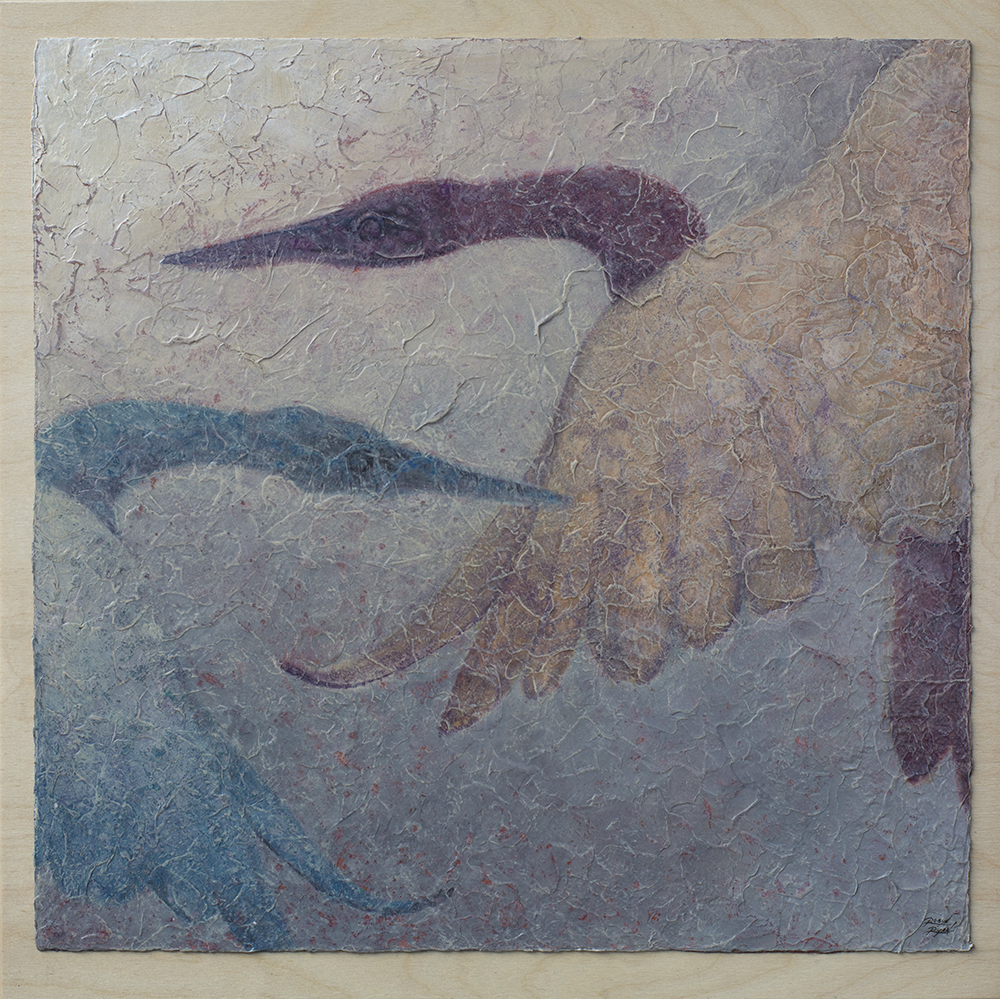 The Acrylic Layers Approach Frees You to Explore and Express Your Creativity by Removing That "Hope Buster" Called "Expectation" and Opening You and Your Creative Process Up to So Many New and Exciting Possibilities!
The Mini-Series consists of five weekly sessions ~ 1:00 p.m. – 5:00 p.m.
Next Session Dates Coming Soon!
During the five four-hour sessions you will learn:
~ The overall Acrylic Layers process
~ Five approaches for under-paintings
~ Five variations for acrylic gel application
~ Six variations for art media application on the gelled surface
~ Subtractive "sanding back" and "erasing" techniques to expose earlier layers
~ A framework for making decisions in the layering process
~ Aids to move past barriers and explore more boldly
~ How to bring new life to a "less than favorite" piece of artwork
~ How to finish an Acrylic Layers piece for display
~ Alternative applications to integrate into your creative approach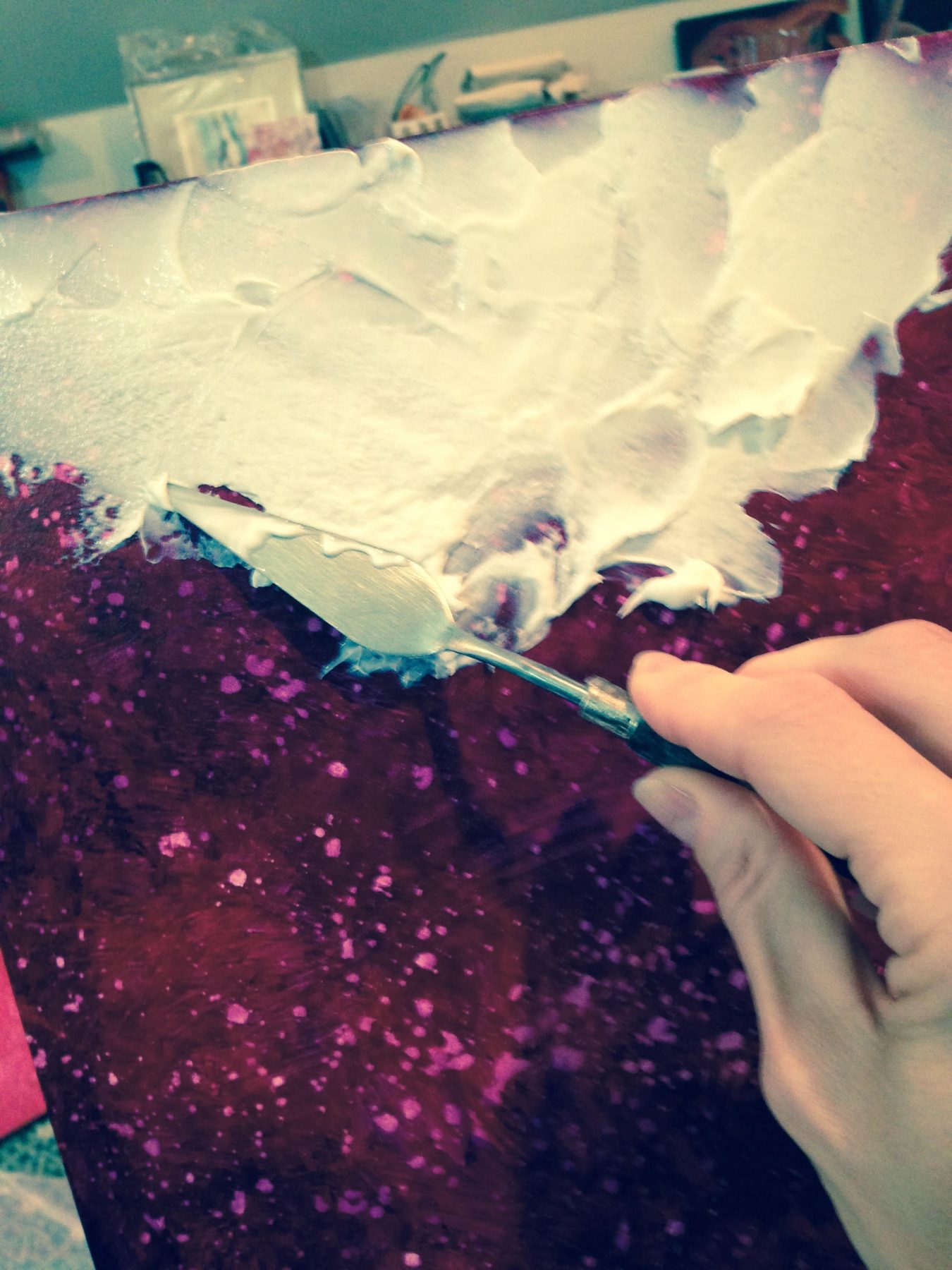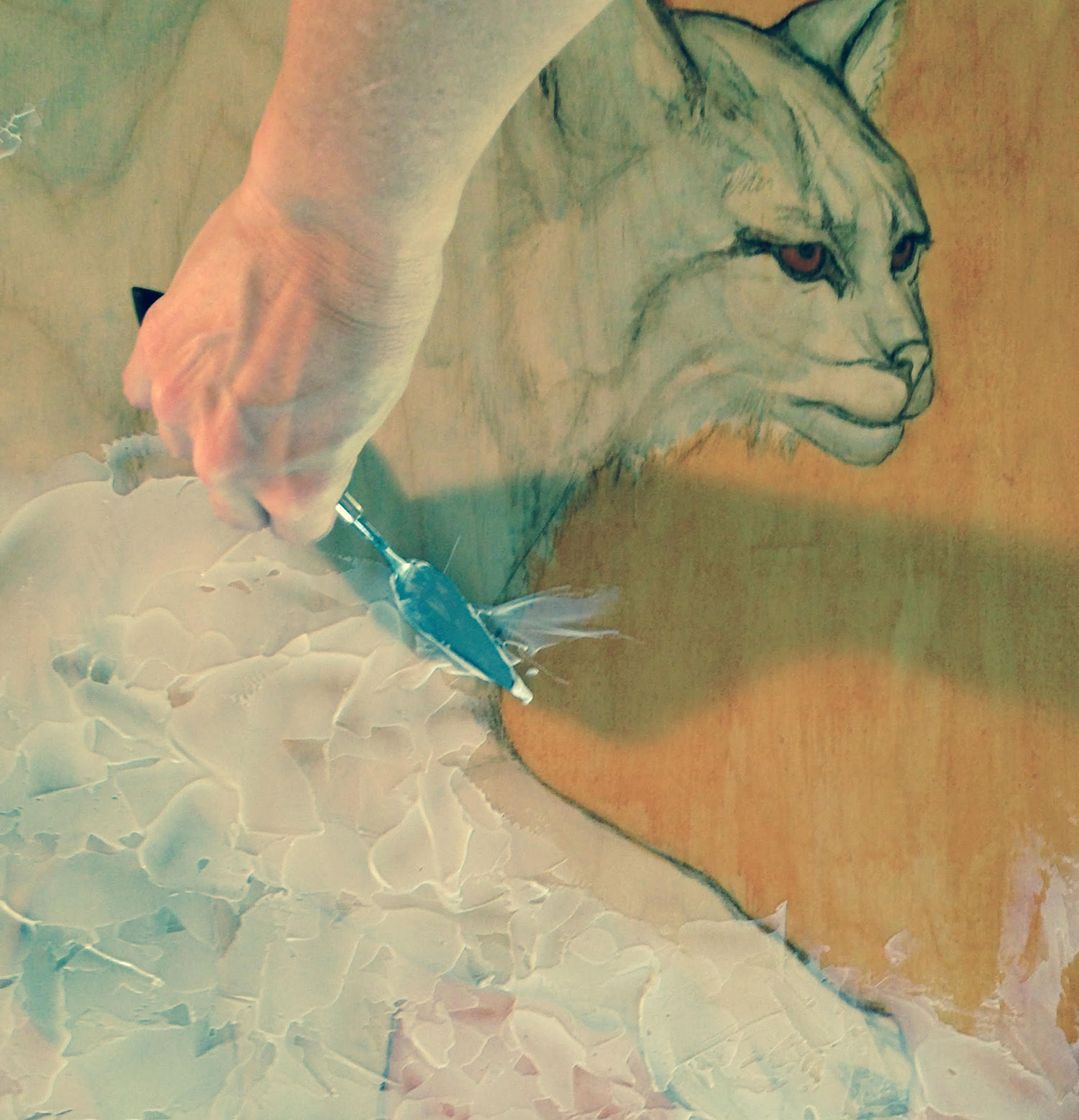 You will produce several acrylic layers pieces using the different under-painting, gel application, and art media variations 
You are absolutely encouraged to make more if you are so inspired and inclined!
The new thought processes you are empowered with enable you to tailor to your own personal creative process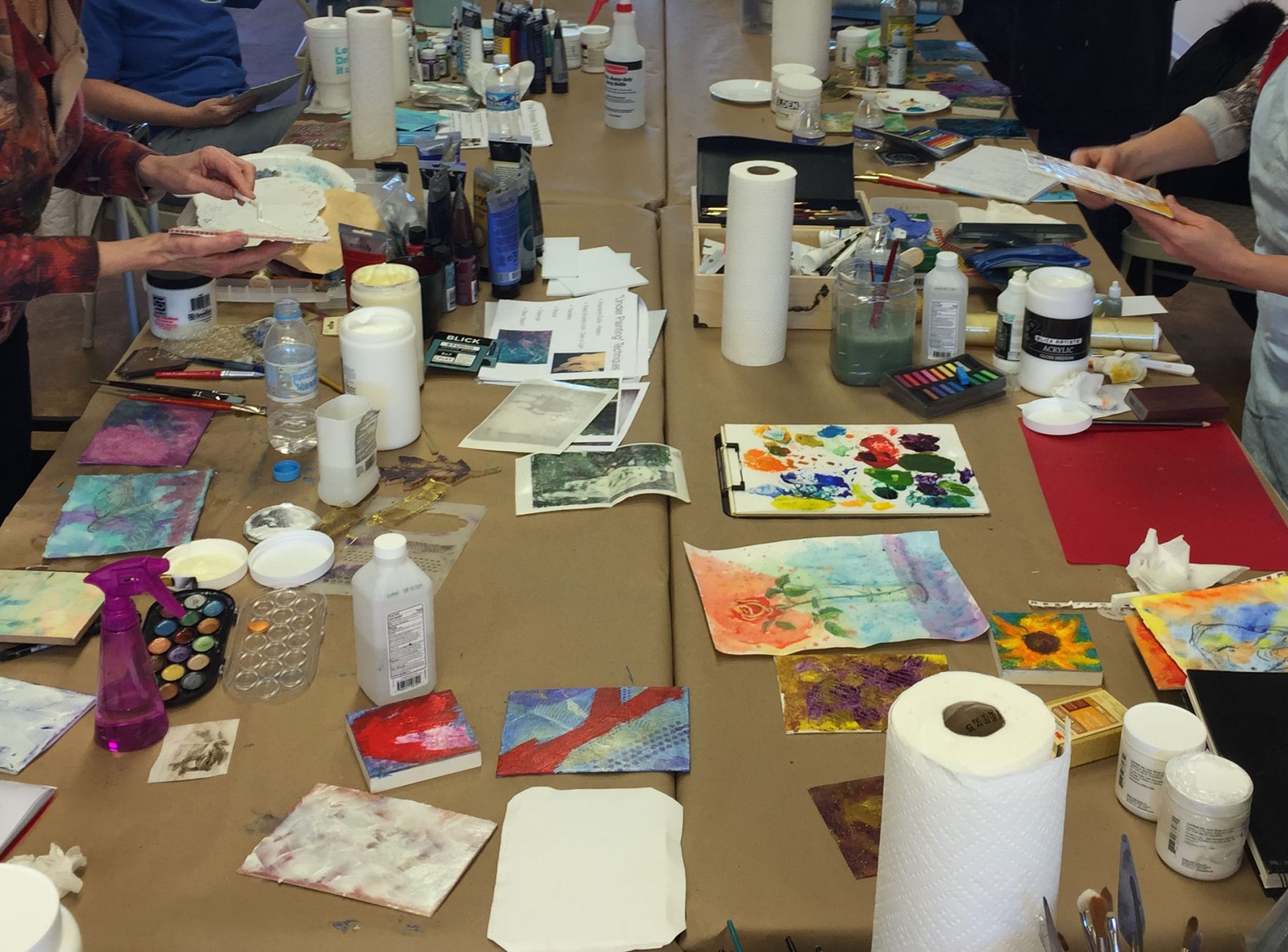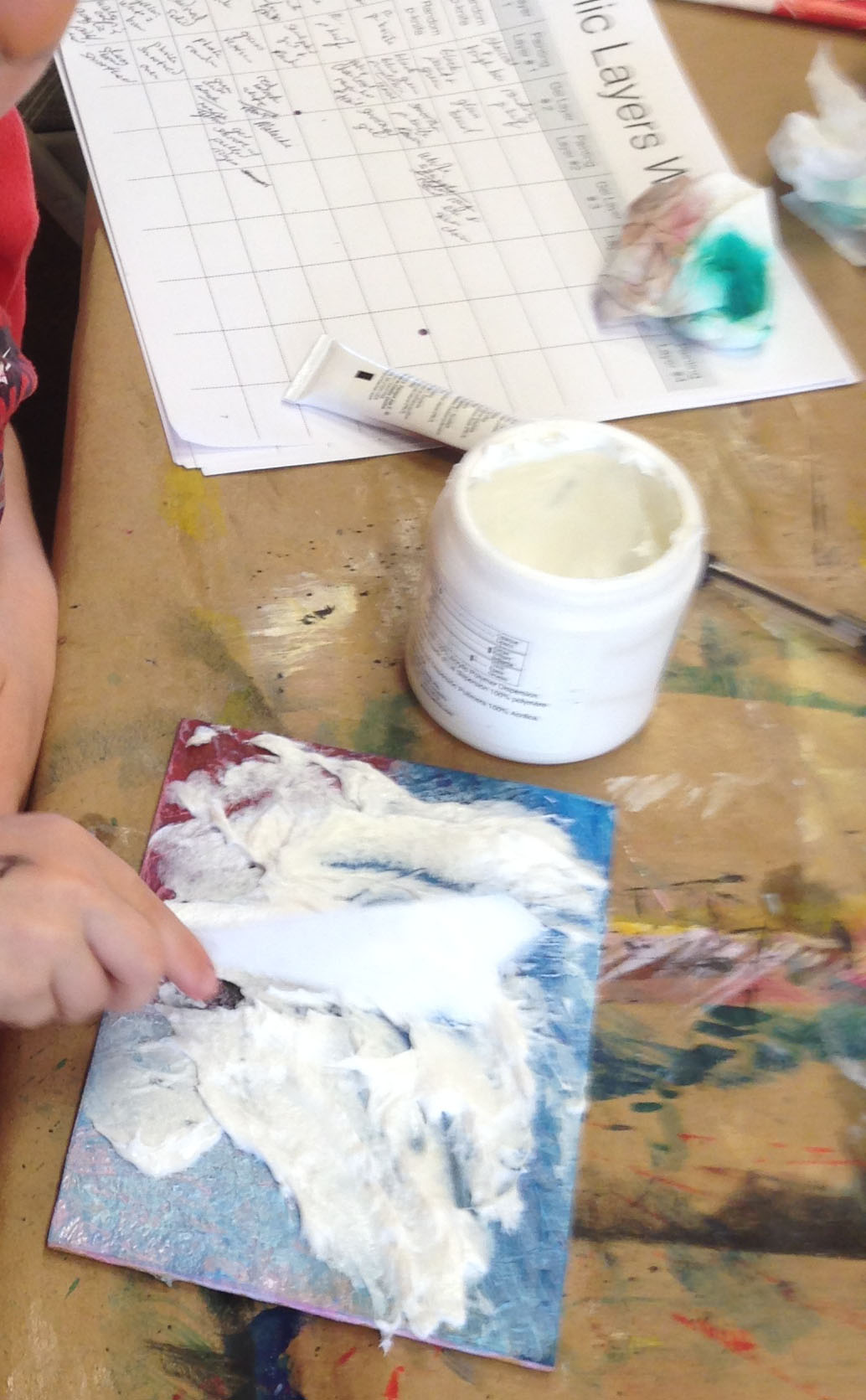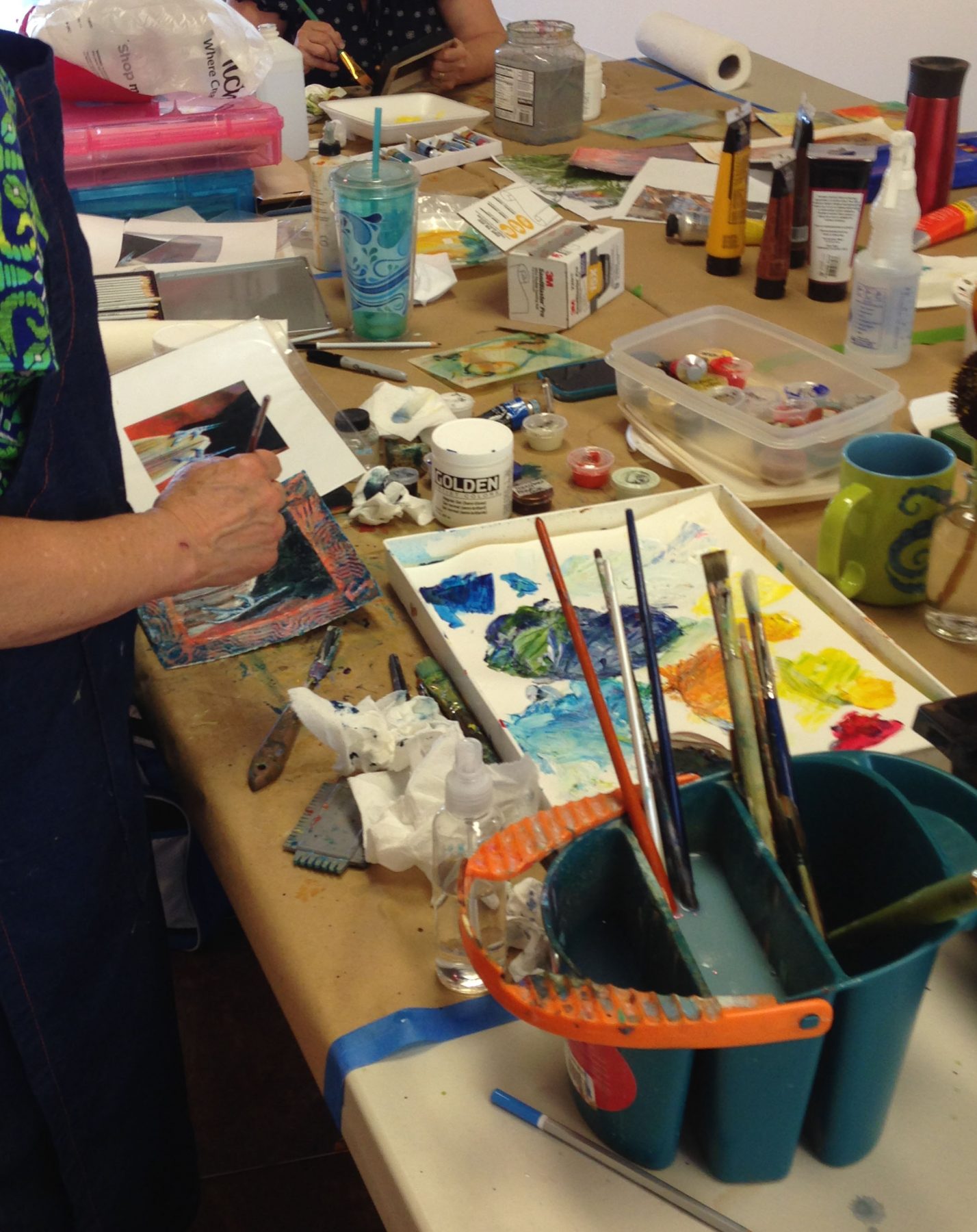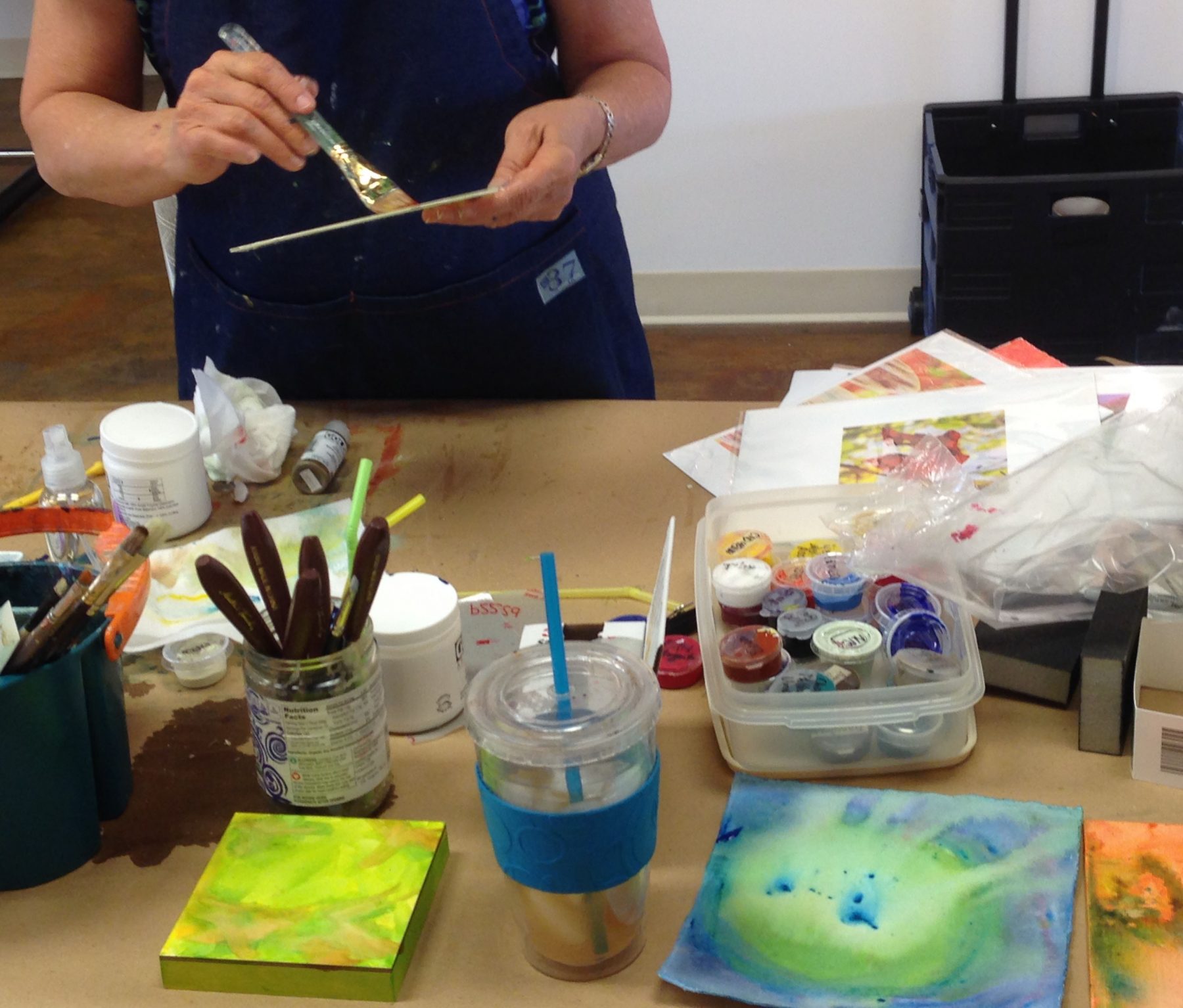 The Acrylic Layers Process is Very Versatile and This Workshop Has Been Greatly Enjoyed By Artists at Many Experience Levels,
"Exceeded my expectations!"
"Great workshop! Well organized, (I've been to many as a teacher – presented by educators and professional artists.)"
"Awesome! I learned a great deal! Better than my college course!"
I loved Robyn's Acrylic Layers course. I have limited painting experience and was nervous that I wouldn't be able to keep up.
Robyn immediately put me at ease and provided encouragement at each step.
She provided plenty of time to experiment on multiple pieces and offered welcome guidance when I got stuck.
I enjoyed the class so much, I've taken it a second time and look forward to taking another class with her.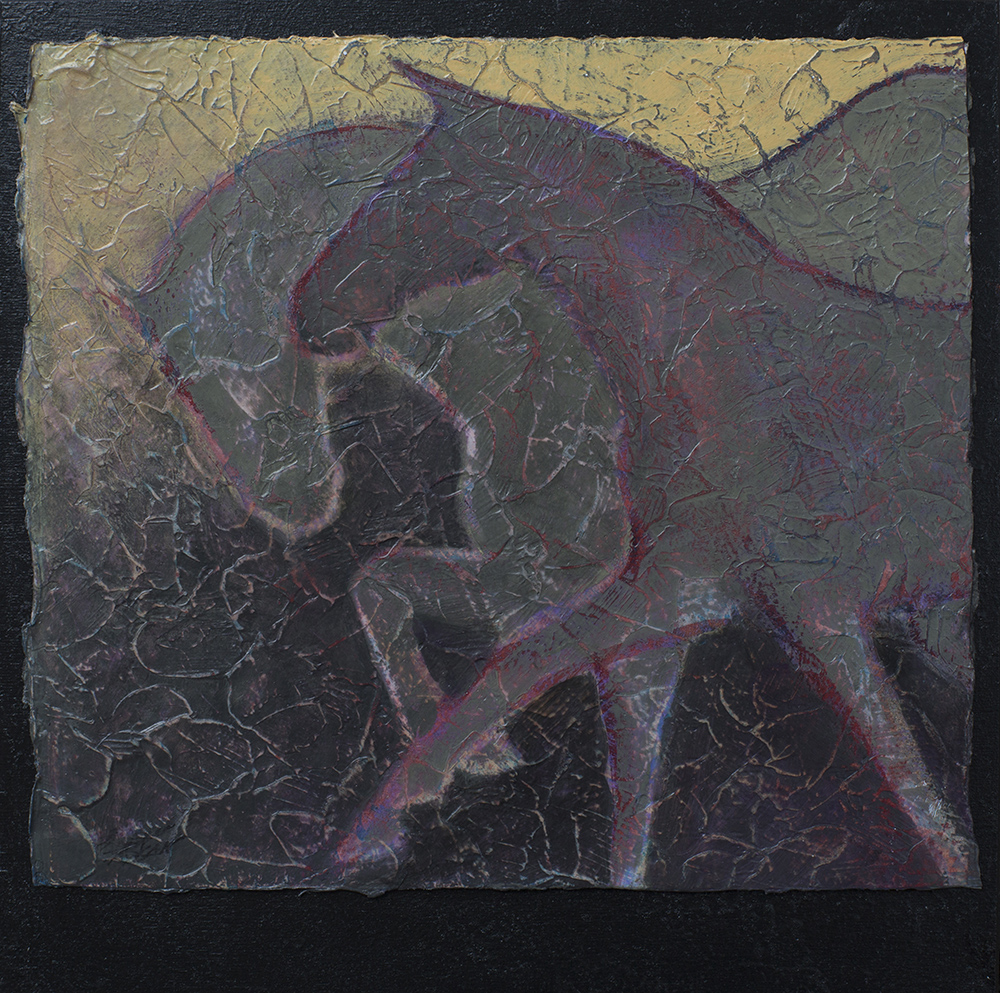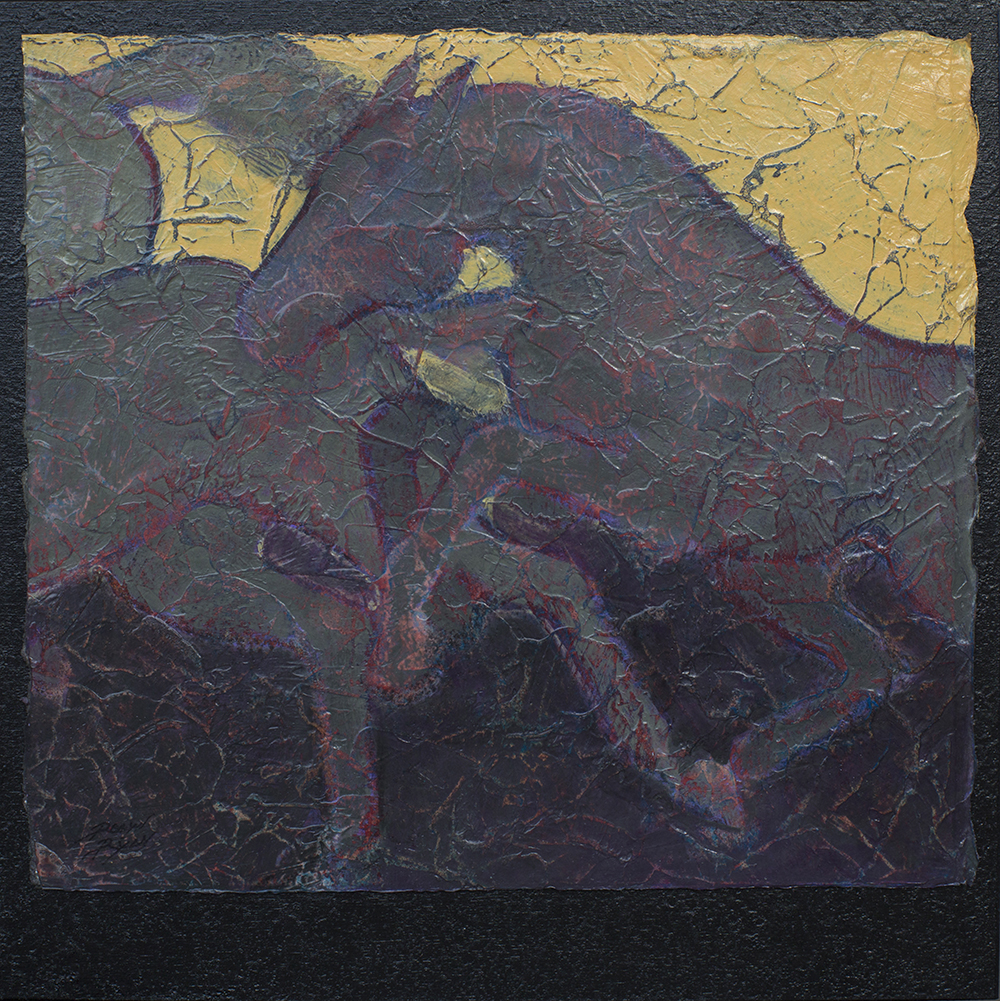 After This Workshop You Will:
~ Understand the secrets behind physically distancing layers of art media with acrylic gel

~ Be Equipped with variations of under-paintings, acrylic gel layering, and art media to mix and match

~ Be Confident in deciding "what's next" because you will be free from preconceived expectations

~ Be Prepared with a full tool box of techniques and ideas to boldly explore your creative intentions
~ Keep Your Mindset Focused on the joy of the process and journey to each piece's unique outcome
~ Have a Full Well of inspiration and possibilities to jump start your next project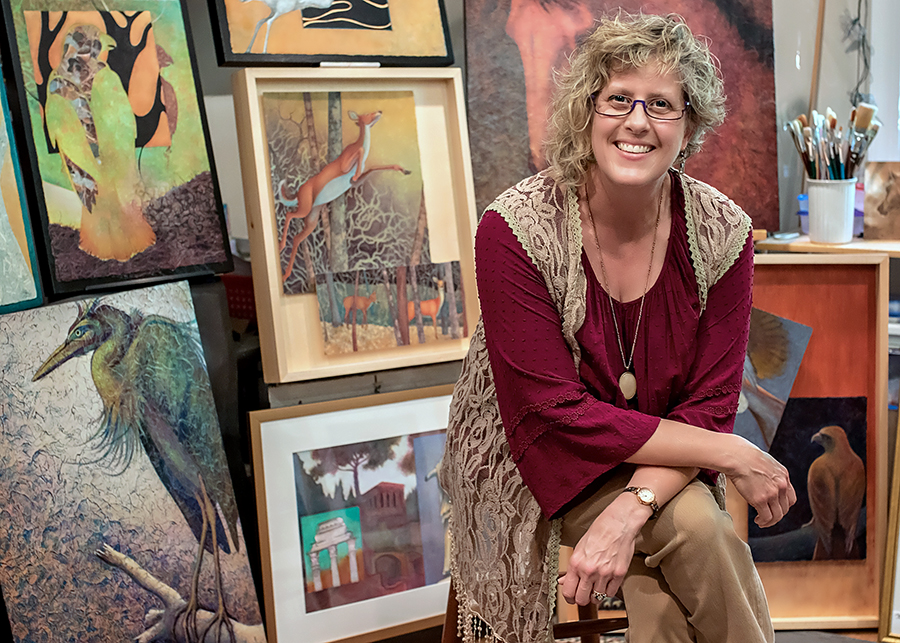 Meet Your Guide for this Exciting Journey!
Robyn Ryan is a professional artist working out of her studio in Fauquier County, Virginia.  Creating and selling art for 30+ years, Robyn enjoys working in water-based media, mixed media, and bronze.
An encouraging and enthusiastic instructor, Robyn has taught numerous workshops in watercolor, her unique Acrylic Layers Process, and Sculpture.  As a teacher, Robyn's focus is on inspiring her students to have fun while venturing through and beyond the mechanics of art making toward increased confidence, joy in the process, and finding each person's unique form of expressing their creative intent.
Her workshops are great for beginners and experienced painters who want to cultivate their skills and build their creative toolbox to create their own unique artwork from the heart, not just the mind.
For more information on purchasing paintings, classes, workshops, and publications go to: https://robynryanart.com
And THAT IS NOT ALL!   Several BONUSES Are Also Included!
In Addition to All of the Actual Workshop Sessions You Also Receive:
~ Three Illustrated Quick Reference Guides summarizing the variations for under-paintings, gel layers, and art media layers
~ Creative Inner Dialogue & Perspective Aids for keeping you motivated and on track!
~ Tutorial on how to make your own stamps to emboss your gel layers!
~ Continued Exclusive Access to the Acrylic Layers Workshop Resources Website
~ Membership in the Acrylic Layers Workshop Alumni Facebook Group
(Sharing works in progress, inspiration, and support as you are adapting the Acrylic Layers Process and techniques into your own work)
~ Live Q&A Sessions to answer questions arising in between workshop sessions and after!
~ Exclusive Alumni Access to Workshop Demo Videos after the workshop
~ Notification of future Acrylic Layers Workshop related events with Alumni Discount!
Acrylic Layers Workshop Mini-Series 
Early Bird Discount Price ~ Available for Limited Time Once Registration Opens
Upon actual registration and full payment, I will send you the link
to the
Acrylic Layers Workshop Mini-Series Resources Webpage
Where all of the details related to the workshop will be located
Including
the Schedule, Supply List and
Guidelines for preparing for a wonderful workshop experience and more!
All workshop materials will be available for download at your convenience
Along with links to the BONUSES!
Do You Have Questions?
E-mail Me at
This Acrylic Layers Workshop Mini-Series is Perfect for You If:
~ You enjoy exploring new approaches to making your art
~ You want to learn new techniques to integrate into your creative toolbox
~ you need to gain more confidence in your artistic decision-making process
~ you desire a re-Invigoration of your creative juices and inspiration…